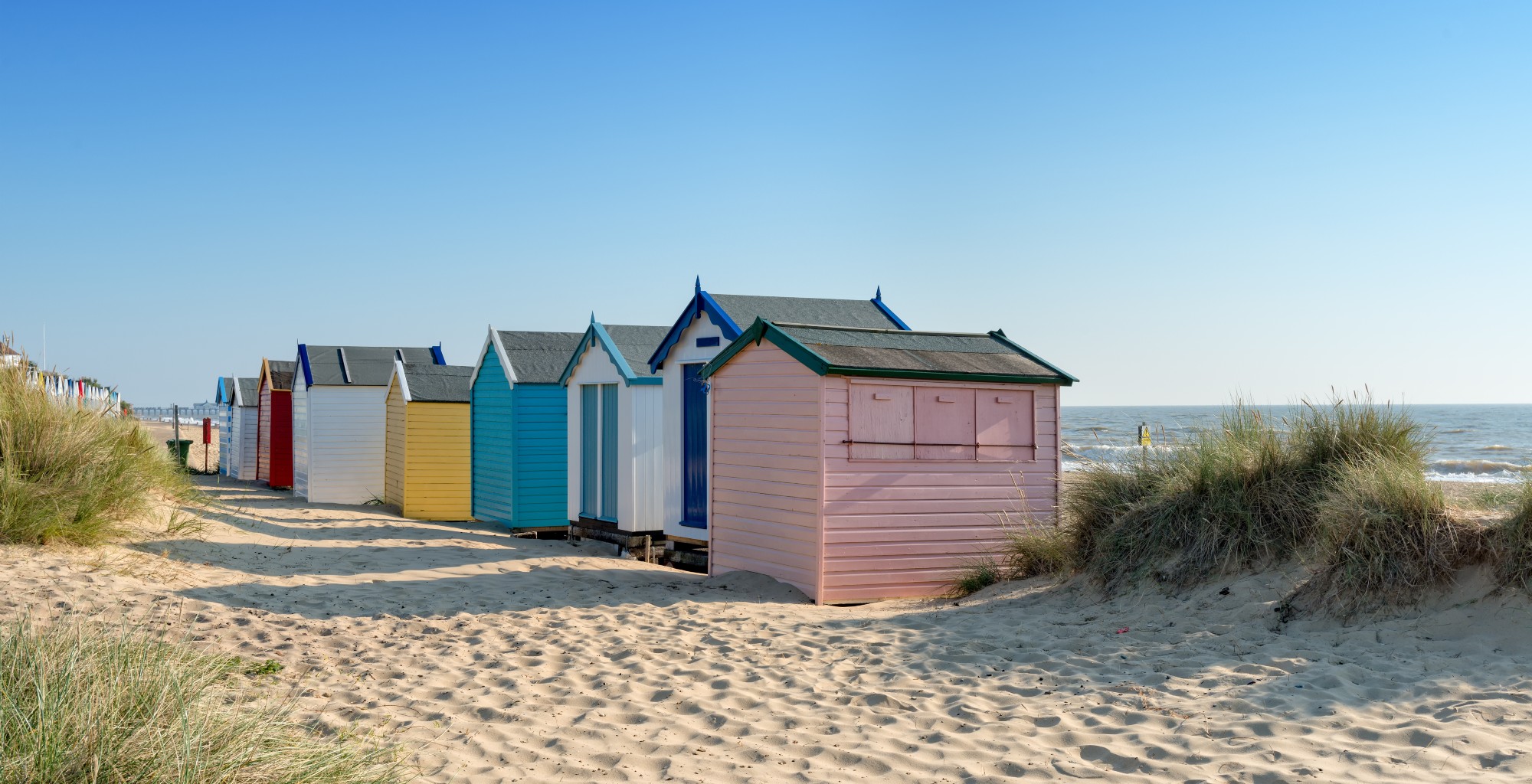 Buying a holiday home in Suffolk – Where to find a retreat
Published Jan 19th 2021
5 mins read
Are you thinking about buying a holiday home in Suffolk?
The once-popular foreign holiday has suddenly fallen out of favour and some people are turning to holiday destinations closer to home
Not only have global travel bans been placed on some of the UK's favourite holiday destinations, but many people feel uncertain about travelling internationally until a vaccine is widely available.
Even before the pandemic, the trend for domestic travel was evident.
In 2019, those holidaying within the UK was 8% higher than those taking vacations abroad, and it's not hard to see why.
The UK is rich with stunning coastline and countryside, as well as towns and cities steeped in history and boasting delicious local produce.
At Garrington, we believe there are few better places for a staycation than in Suffolk.
The question is where to find a retreat – with its wonderful selection of coastlines, marshland and market towns, Suffolk is perfect for nature lovers, ramblers and foodies alike.
Here are our top picks in the area, the places we'd suggest buying a holiday home in Suffolk.
Coastal locations in Suffolk
There are several coastal locations in Suffolk to consider when looking for a holiday home, below we highlight some of our favourites.
Southwold
The charming town of Southwold is a classic example of an English seaside resort.
Its popular sandy beaches are lined with colourful beach huts and grassy banks, while its award-winning pier is filled with eccentric British seaside fun.
Home to quirky amusements and retro arcade games, the pier also offers delicious fine dining and shopping boutiques for those seeking a more sophisticated day out.
Southwold is renowned for its fantastic local produce.
Venture into town to find a multitude of fantastic restaurants and pubs, many of which serve the award-winning beers, ciders and spirits made at the Southwold Adnams Brewery, located in the centre of town.
The high street boasts independent shops and high street staples alike, while its local galleries, antiques stores and delis are always thriving.
A hugely desirable area for holiday homes, Southwold sees its population spike from 1,500 to nearly 9,000 during the summer months. As a result, property prices reflect its popularity.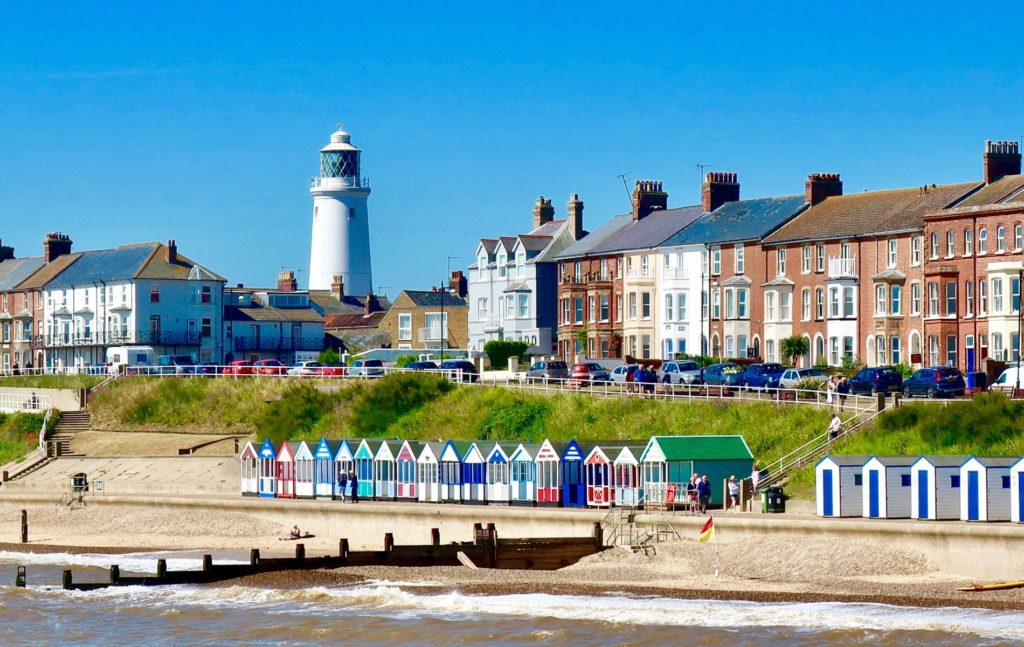 Walberswick
Just south of Southwold is Walberswick. It may share the same beachside setting as its neighbour, but it is certainly no resort.
Instead, Walberswick remains unspoilt and picturesque with a thriving artistic community that regularly exhibit at local galleries.
The perfect holiday destination for nature lovers, Walberswick is surrounded by marsh and heathland and boasts a dog-friendly beach with sands, shingle and crumbling cliffs.
Elsewhere, Walberswick Common is home to a variety of flora and fauna, while the River Blyth is rich with bird and animal life, including egrets and otters.
Just like its neighbour, Walberswick is a popular second-home area.
Properties in Walberswick are charming and brimming with traditional character.
Thorpeness
One of the best things about Suffolk is the variety of its coast and countryside.
A perfect example of this is the small village of Thorpeness.
Bought in 1910 by Stuart Ogilvie, it was transformed into a private fantasy holiday village complete with a 60 acre boating lake, mock-Tudor houses, and a unique water tower nicknamed the 'House in the Clouds'.
But it's not just the manmade features that make Thorpeness so magical.
The village is surrounded by gorgeous heathland and forest, while the nearby North Warren RSPB reserve is home to many species of insect and bird.
For fans of golfing, Thorpeness Golf Club is a must-visit; it seamlessly weaves its way through the native heather and grasses, making it one of the highest regarded golf courses in Suffolk!
A fantastical village full of character, properties in the area are notable for their mock Tudor and Jacobean architecture.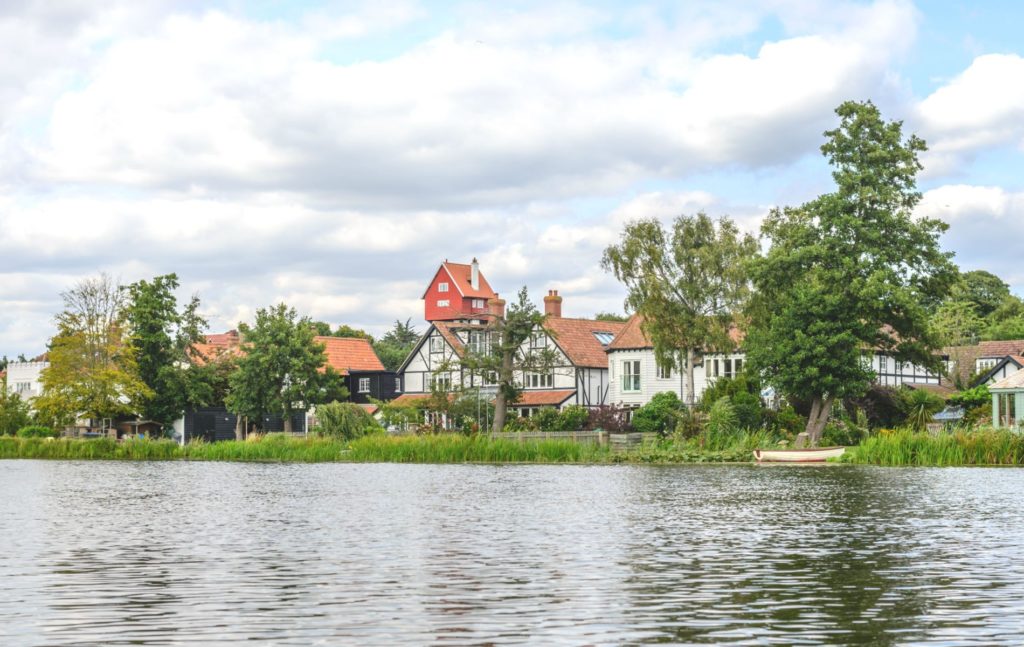 Aldeburgh
Just 5 minutes south of Thorpeness is Aldeburgh, a vibrant and lively seaside town famous for its pebbled-beach, pastel-coloured villas, and scenic golf course.
Its thriving high street is home to independent boutiques, restaurants and galleries alike, as well as a community-run cinema.
For those interested in the arts, you can also enjoy the Concert Hall at nearby Snape Maltings; its annual music and literary events conclude with the Aldeburgh Festival in June, the perfect timing for a summer vacation!
Aldeburgh's period properties and fisherman's cottages make it a sought-after location, while its thriving town means there's always something to do.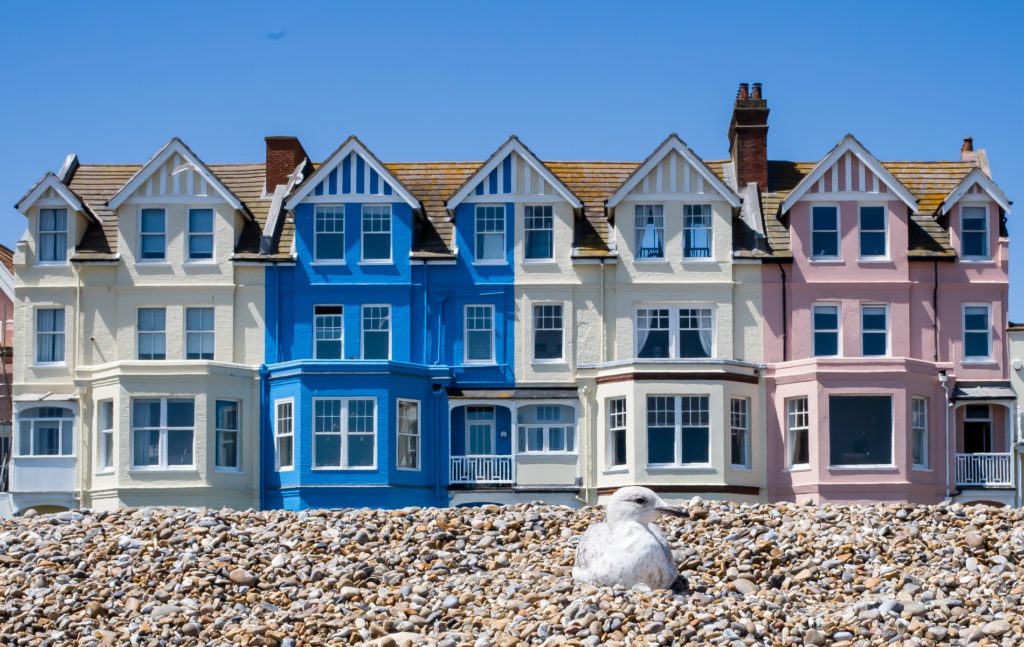 Suffolk countryside
The Suffolk countryside has lots to offer for a staycation, the below are some places we'd suggest looking for a holiday home.
Halesworth
The historical market town of Halesworth is home to a thriving community.
Its main Thoroughfare is pedestrianised, perfect for a lazy day perusing the independent shops that line its streets.
The Cut Arts Centre can be found at the end of the Thoroughfare, and it is here where the annual Halesworth Arts Festival hosts the majority of its events.
Held every October, the festival presents the best in local music, art, poetry and drama, and is definitely worth scheduling a long weekend in Halesworth to experience.
With a surrounding area that is popular with walkers, bird-watchers and cyclists, Halesworth is also the perfect place to get back to nature.
Framlingham
About 30 minutes south of Halesworth is Framlingham.
A picturesque town steeped in history, it is famous for its impressive Norman castle and market hill, home to the town's twice weekly outdoor market.
The Framlingham Market rolls out every Tuesday and Saturday, and it is hard to resist the vendor's delicious artisan goods and local produce!
Framlingham is a fantastic country escape.
Nestled within the scenic countryside, Framlingham is surrounded by The Mere, a natural haven that contains nearly 300 species of plants and 80 species of birds!
As a result, the area is very popular with walkers and birdwatchers, so if you want to get up close with wildlife, this is the place to visit.
Woodbridge
Suffolk is blessed with being part of an Area of Outstanding Natural Beauty, and nowhere is this more evident than the idyllic quayside town of Woodbridge.
With its wonderful riverside paths and stunning scenery, it is the perfect place for keen ramblers; many enjoy a quiet waterside walk alongside the River Deben, a peaceful tidal estuary rich with wildlife.
Woodbridge may appear calm and serene, but there is always a buzz in the air!
The town is full of fantastic independent shops, from boutiques and delis to tailors and florists.
It also boasts a number of fabulous food venues, including The Crown, which was recently named by the Times as one of the 'Best 30 pubs for lunch in Britain'.
Regular food, vintage, and craft markets are also held throughout the year, so it is worth scheduling your holidays for them.
With its thriving community, boutique shops, and riverside paths, Woodbridge is perfect for those who seek an idyllic country break but still crave a lively town atmosphere.
Take your pick from its charming cottages, Victorian terraces and Tudor townhouses.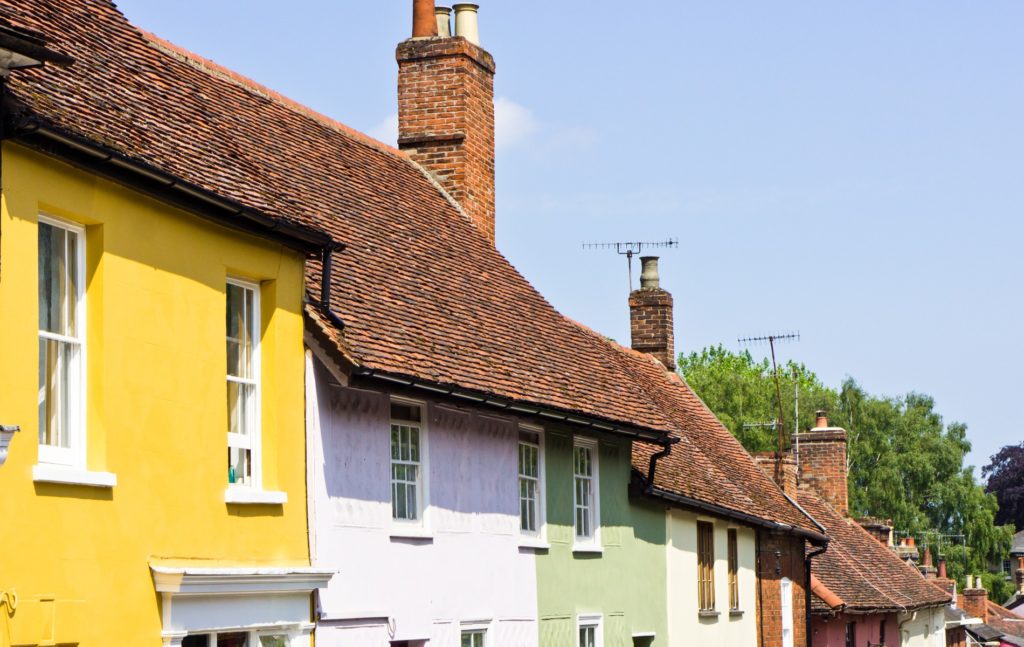 Saxmundham
Another charming market town is Saxmundham.
With its bustling high street and traditional market held every Wednesday, your shopping bag will soon be full of fruit and vegetables, fresh fish, flowers and tasty preserves!
Meanwhile, the many argue the best Fish and Chips in the area can be found at the Trawler's Catch, so be sure to pop by during your visit.
Saxmundham offers great access via rail and road to the many 'must see' places in the area, making it the perfect base as you explore the Suffolk Coast.
Many of its properties are of Georgian or Victorian appearance, with some even dating back to Elizabethan times, which adds to the historical charm of the town.
Commutable Suffolk stations
When it comes to travelling by train, Suffolk is very well connected.
Greater Anglia operates trains to a wide range of stations across Suffolk, including Manningtree, Ipswich, Stowmarket, Woodbridge and Bury St Edmunds, all of which are stops on the same service.
Discount tickets, such as Anglia Plus, makes it even easier to explore Suffolk.
If you are craving a slice of city life on your holiday, Greater Anglia operates direct trains to both Cambridge and Ipswich from Bury St Edmunds station.
The journey from Bury St Edmunds to Cambridge takes 44 minutes with roughly 17 trains operating per day, while the journey to Ipswich takes just 34 minutes with roughly 27 trains operating per day.
As for the station itself, it has both bike storage and a 24 hour car park with over 100 spaces.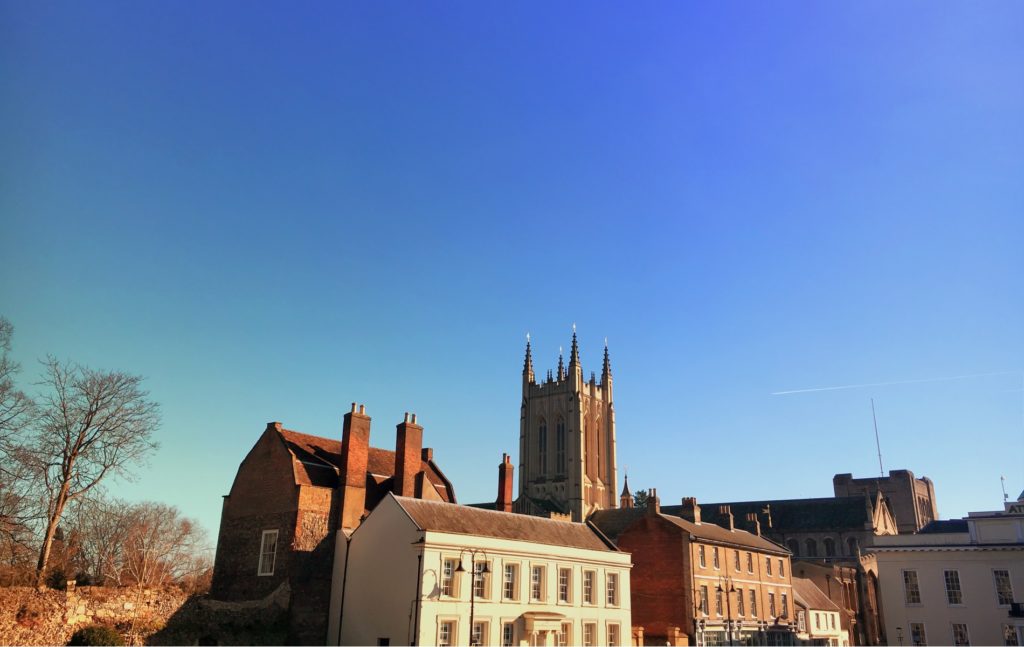 Holiday home in Suffolk
Choose Garrington to help find your perfect holiday home.
Our professional property finders can advise on the best possible location for your needs and scour the market to find your dream property.
To discuss your search and our services, please do get in touch.