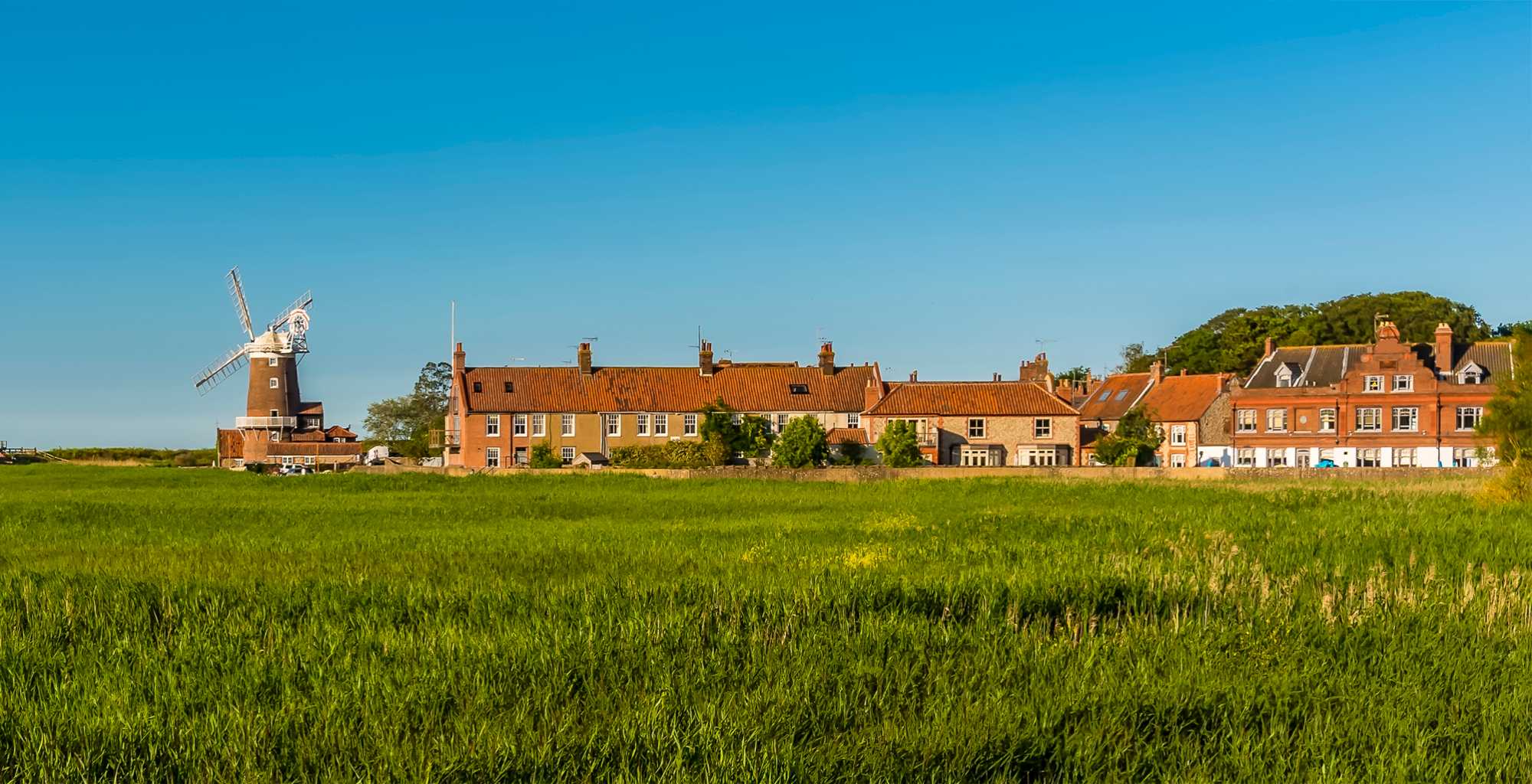 Where is the best place to live in Norfolk?
Published May 27th 2022
5 mins read
You'd be forgiven for thinking that Norfolk is only really famous for the Norfolk Broads and for being home to Horatio Nelson.
But, there's much more to this historic county – a beautiful coastline with long stretches of sandy beaches, bustling market towns, a university city and thriving communities.
Add to that historic locations, fabulous walks and scenery, a growing business economy, and excellent transport links to London.
Norfolk is definitely an up-and-coming county, proving to be a popular location for all people looking for a more rural place to live, but still have access to all the modern amenities we expect today.
If you're wondering where is the best place to live in Norfolk, we've picked out some of the top locations in the county.
Holt – best for town living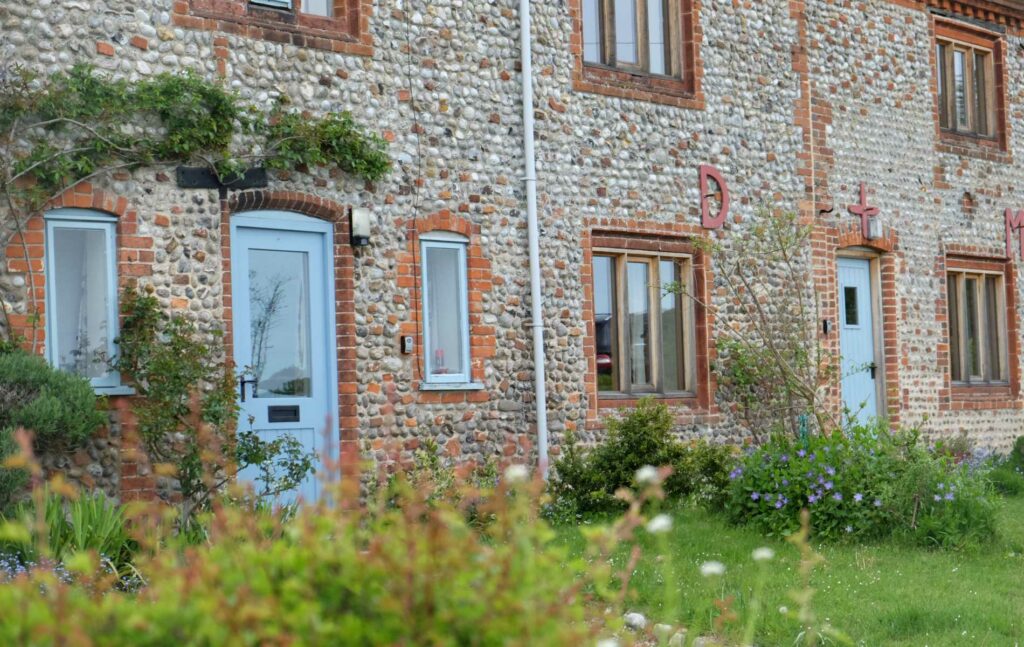 Holt is a popular, thriving market town with a busy community.
There are stunning 18th century Georgian buildings – many built after the Great Fire in 1708 – with Victorian alleyways and courtyards that are home to a multitude of independent book and antique shops, art galleries, food halls, independent arts and crafts retailers, coffee shops and cafes.
Whether it's the Christmas lights decked throughout the town, the hustle and bustle of the Holt Festival in the summer, or the venues in town hosting a tribute of actors, musicians, poets and other performers, you will never lack for something to do in Holt.
The revived market is back on Sundays in the central Market Place and has an abundance of local traders and producers offering locally-sourced meats, vegetables and cheeses, Norfolk cider and crafts.
Holt Country Park, which extends to around 100 acres, has a plethora of woodland walks, fabulous wildlife, and not forgetting afternoon tea at the highly renowned Byford's tea shop.
Everyone that comes to Holt should experience the North Norfolk Railway and take a magical ride on the Poppy Line steam and diesel train services to the seaside town of Sheringham, as well as Weybourne nearby.
Schooling in and around Holt is excellent; none more so than Gresham's School founded in 1555 by Sir John Gresham, who was himself the founder of the London Stock Exchange.
A co-educational school, the facilities and educational opportunities at Gresham's School are well-known with famous former pupils including Benjamin Britten, Sir James Dyson and Olivia Colman.
Holt has good transport links by road, rail and bus to the city of Norwich as well as other nearby towns and coastal resorts.
Cley – best for village life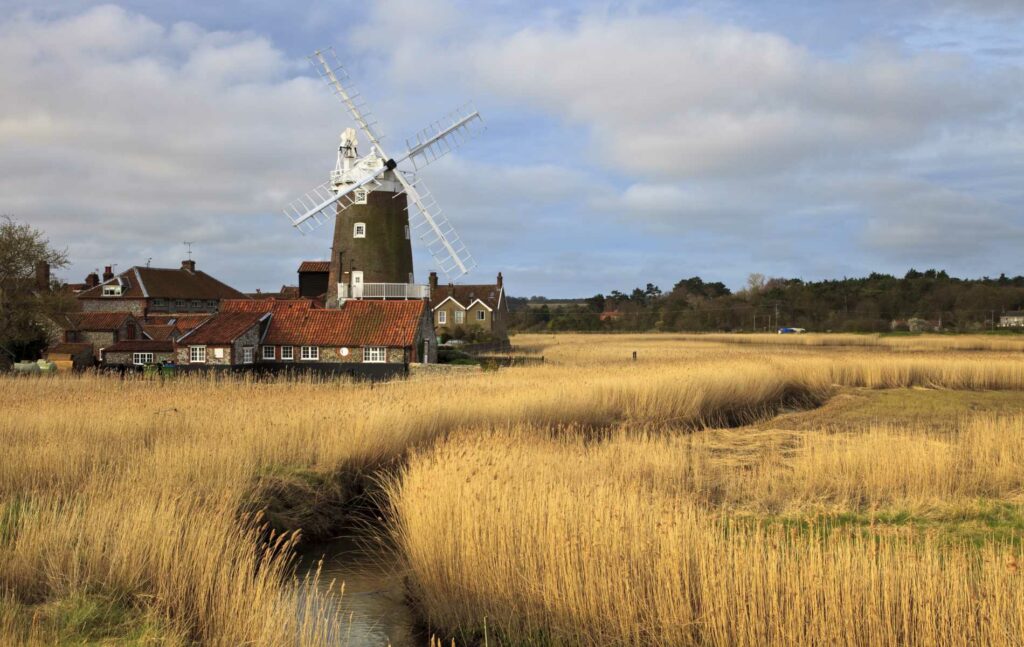 What was once one of the busiest village ports in England, importing and exporting cereals, grains, malt, spices, fish, cloth and coal, is now one of the best kept secrets of Norfolk.
This absolutely charming village lies within the Norfolk Coast Area of Outstanding Natural Beauty and is now one of the most internationally-renowned natural marsh environments.
Sitting alongside the River Glaven, the lagoons, grazing marshes and reed beds that surround the village are an important breeding ground for rare birds, wildfowl, waders and other wildlife.
Cley, or Cley-next-the-Sea, which harks back to its days as a port, could be mistaken for a coastal village with its shingle beach that is ideal for shore fishing. However, it also has a thriving village community.
The 13th century church sits alongside the village green, and the village's narrow lanes are full of wonderfully unique shops and outlets including a smokehouse, tea rooms, stoneware pottery that is made on-site, book and antique shops and a picnic fayre deli that must not be missed.
The 18th century windmill is now a delightful guest house and has the most fantastic views across Cley's marshland.
Did you know that horse races were held across the marshland in the 19th century and the windmill was popular with smugglers?
Wells-next-the-Sea – best coastal location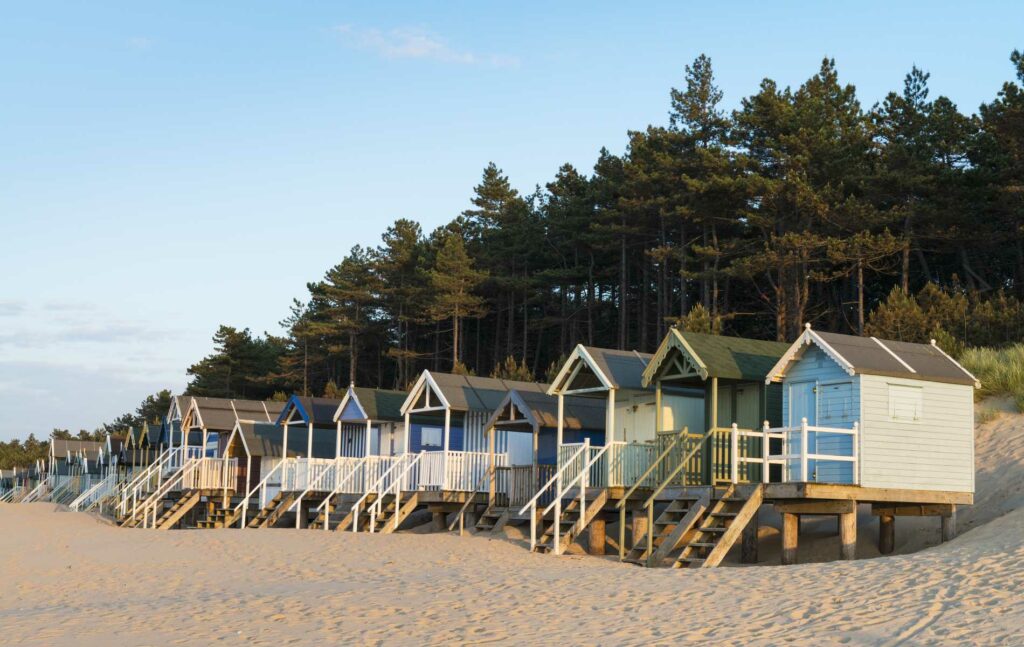 If you're looking for a coastal location that is positively blooming, Wells-next-the-Sea is the place to be.
You'll find a thriving community, endless beaches, amazing views, fabulous walks, a busy harbour and a variety of delightful pubs, cafes, coffee shops and independent retailers.
Formerly a busy seaport and now a popular harbour town that is famous for its award-winning fish 'n' chips, as well as its colourful beach huts that line the beach, this village is just charming.
Wells-next-the-Sea sits between Blakeney Point and Holkham Beach, both of which are within easy reach.
Its village is centred around Georgian Square and popular Staithe Street is home to a mix of contemporary and traditional shops, independent retailers, cafes, coffee shops, bars and restaurants.
Fishing is a mainstay of this village along with the RNLI station which has a fleet of historic lifeboats.
The delightful ship, the Albatross, is berthed in the quay and can be booked for cruises, as well as being a popular venue for a range of events.
The harbour is also an ideal place for water sports and other water-based activities, like sailing, water skiing, fishing and crabbing.
Don't miss the famous Lifeboat Horse sculpture, created as a tribute to the horses that used to pull the lifeboat from the quay to Holkham Gap.
Norwich – best for city life
A jewel in the crown of Norfolk, Norwich is considered one of the best places to live in the UK for families and the younger generation.
From the city's two stunning cathedrals, ancient medieval streets and period houses to a plethora of modern day shopping outlets, award winning market and rich cultural heritage, there's a lot to love about Norwich.
The city is a unique blend of history, modern amenities and a cosmopolitan lifestyle that will suit just about anyone of any age.
The historic streets of Tombland and Elm Hill sit comfortably alongside the Golden Triangle area, full of cafes and coffee shops that are akin to London living.
Take your time strolling through The Lanes and browse its many independent antique, book and craft shops or wander through the umpteen stalls in Norwich's famous daily market – whatever you're looking for, you will find it in this thriving city.
There is a wonderful mix of executive flats and apartments nestled alongside detached, semi-detached and detached houses.
All of which are within easy reach of the city's centre, its universities, excellent schools, parks, wildlife, children's activities and so much more.
The city also has plenty of pubs, restaurants, bars and nightlife on offer.
Transport links are the absolute best you can get in Norfolk; London by rail is all but an hour and 45 minutes distance, whilst access to local villages, coastline, beautiful walks and scenery, as well as the Norfolk Broads, is easy.
Where is the best place to live in Norfolk?
Garrington is one of the most respected, well-known brands in the property finding industry.
Our logical approach to home search and enviable reputation acting as trusted advisors to an array of successful clients, together with our expertise and market intelligence, ensures we succeed in finding even the most obscure properties, throughout the UK.
To find out how we can help you find your next home, contact us today. Download our UK property market review to get the latest updates in the property industry.