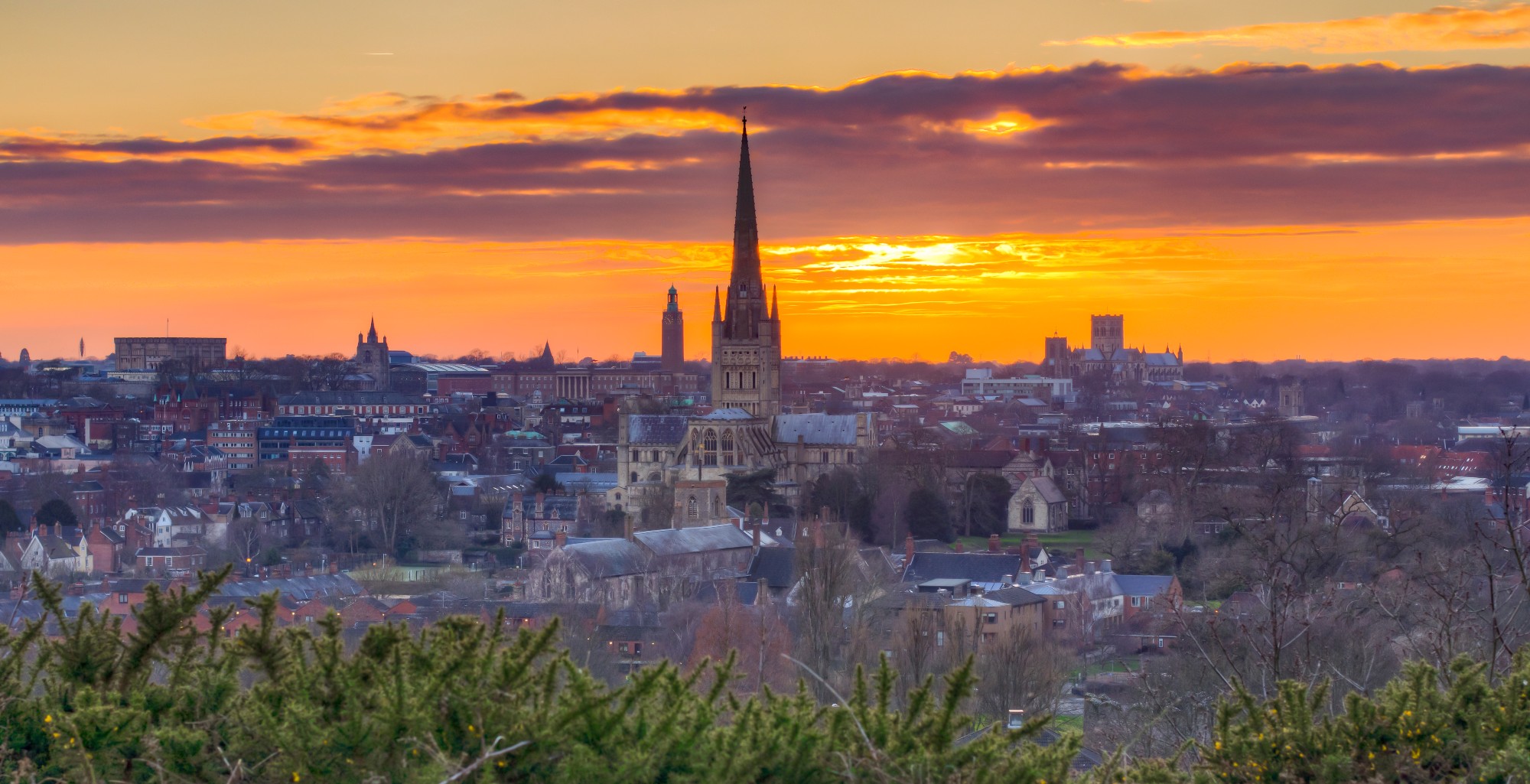 Property in Norwich – Where to live in and around the city
Published Oct 23rd 2020
5 mins read
When looking for a property in Norwich there are several different areas to consider and where you might look for a home can be driven by your priorities and commuting. Here we look at where to live in and around the city.
Commuting from Norwich
Norwich Rail Station is a major terminus for those in the East of England. It offers regular services across the county and beyond, perfect for those who need to commute throughout the week.
One of its most notable services is Norwich to London Liverpool Street. With an average journey time of 115 minutes and no changes required, Greater Anglia operates both semi-fast and stopping trains to and from the capital.
On an average weekday, up to 34 trains depart from Norwich to London Liverpool Street, the earliest of which leaves at 5 am. Greater Anglia has also introduced a 90-minute service that operates twice daily, Monday to Saturday, departing from Norwich at 9 am and 5 pm.
With hundreds of services operating across its many train lines, Norwich Rail Station also lets you explore all that the East of England has to offer.
Board the Bittern Line, one of the most scenic railways in the UK, to visit the popular seaside towns of Cromer and Sheringham; take the Breckland Line, so named after the area of outstanding natural beauty in which it passes through, for direct trains to and from Cambridge; and finally, board the Wherry line for direct services to Great Yarmouth and Lowestoft, taking in the very best of Broads National Park on your journey.
City Centre
Norwich city centre is a thriving hub of shopping, food, theatre and history. Its high streets are full of big-name brands, while its famous outdoor market (the largest of its kind in the UK) and charming cobbled streets boast fantastic local businesses.
There are multiple trendy cafes, pubs and restaurants to suit everyone's taste, as well as a thriving arts scene thanks to its three popular theatres. A 'fine city' steeped in history, from its medieval castle to its stunning Norman Cathedral, Norwich is also a city that fully embraces modern life. The unique glass-fronted Forum is always buzzing with visitors, as is the Riverside Entertainment complex and Retail Park.
If you are looking for a river view, the banks of the River Wensum are full of modern one- and two-bedroom apartments. The city centre itself is a mixture of townhouses, listed buildings and terraced properties.
Golden Triangle
Just a short walk from the city centre is the Golden Triangle. Dubbed by locals as 'the Notting Hill of Norwich', it has a strong cosmopolitan vibe thanks to its mix of students, families and professionals.
With its tree-lined streets and wide range of shops, restaurants, cafés and pubs, there is always a buzz about the area. Its strong sense of community and friendly atmosphere make it a very desirable location to move to, while the local infant and junior schools are also well regarded.
The Golden Triangle is well known for its terraced houses, boasting both three-storey Edwardian properties and smaller Victorian homes alike. The base of the 'Triangle' is formed by Colman Road, while the other two sides (Earlham Road and Newmarket Road) lead into the city centre.
Unthank Road runs down the middle and is a key shopping area for locals. It features multiple eateries and independent shops, as well as a florist, chemist and small supermarket.
The Golden Triangle also contains (or is adjacent to) three public parks: Chapelfield Gardens, Heigham Park, and Jenny Lind Park. They are often buzzing with families and social gatherings, and are popular locations for many sporting activities, including tennis, running and football.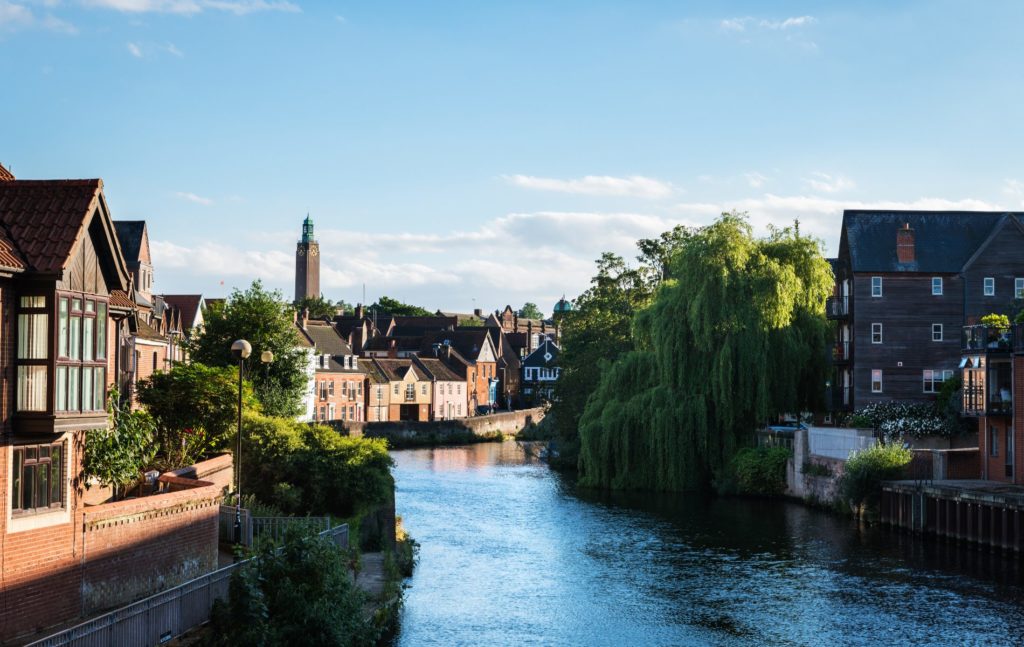 Eaton
While Eaton is, in fact, a city suburb, it has managed to achieve a friendly village feel. Its boundaries stretch from Eaton Park – a popular spot for families thanks to its boating lake, miniature railway and sports facilities – all the way to Eaton Golf Club, an eighteen-hole course set amongst attractive parkland. It also has its own supermarket, as well as a number of pubs, shops and schools.
Eaton is full of many desirable properties and boasts the highest proportion of thatched buildings in Norwich. A highly sought-after residential area, Eaton is bordered by the River Wensum and is also home to the beautiful Marston Marshes.
Cringleford
Cringleford is a highly desirable place to live, particularly for professional people. This is largely due to its fantastic location. Just 3 miles south-west of Norwich city centre, it is situated close to the Norfolk and Norwich University Hospital, Norwich Research Park and the University of East Anglia. It is also within easy reach of the A47, A11 and the A140 for those looking to commute.
Despite this, Cringleford has a great village atmosphere with many sought-after properties. With its popular local schools (both rated 'Outstanding' by Ofsted) and an award-winning children's play area, it is also a popular area for families.
Trowse
Nestled on the banks of the River Yare, the village of Trowse is one of a small family of model villages created during the 1800s for workers of Colman's mustard factory. As a result, it is an extremely picturesque location, with the new build properties in Millgate Meadow influenced by its period architecture. Many of the houses have sash windows, decorative plinths and elegant Georgian style porches.
Just 2 miles from the city centre, and with Whitlingham Country Park a short 5-minute drive, Trowse boasts a truly fantastic location. Its regular village bus service makes it easy to pop in and out of the city, allowing you to enjoy the peace and quiet of the countryside as well as the bustle of city life.
Best Schools in Norwich
Norwich School is considered by many as one of the best in the area. The independent school is located in the stunning grounds of Norwich Cathedral and caters to those aged four to eighteen. Boasting excellent facilities, inspirational staff and a broad curriculum, its exam results speak for themselves: in 2019, 99% of its pupils achieved an A*to C in their GCSEs.
Norwich High School for Girls is another popular private school for those aged three to eighteen. Its impressive 14-acre site is filled with outstanding facilities, including a heated swimming pool, four modern ICT suites, and a picturesque outdoor theatre. Its exam results are also exemplary, with 97% of its students receiving an A* to C for their GCSEs in 2019.
In terms of public schools, Notre Dame High School, Jane Austen College and City of Norwich School are three of the best rated secondary schools in Norwich. Judged to be 'outstanding' in its latest Ofsted inspection, Notre Dame High School is a Roman Catholic school "inspired by the love of God and the teachings of Jesus". Located in Norwich city centre, it also has its own sixth form.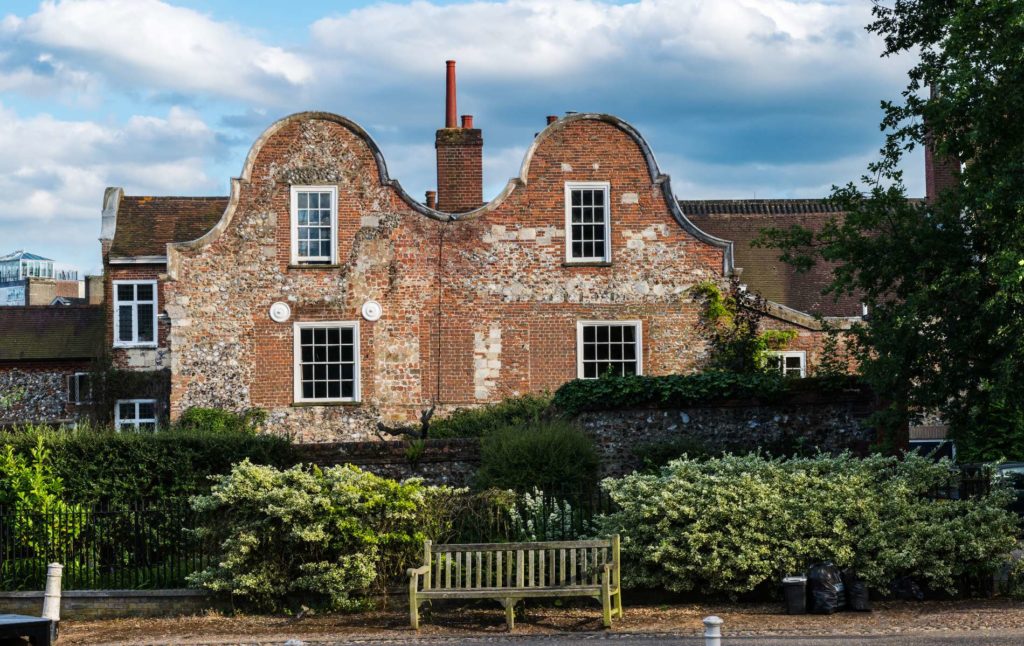 Jane Austen College opened in September 2014 and has since been rated as 'Outstanding' by Ofsted in four out of five key areas. Located in the heart of Norwich beside the River Wensum, its sixth form remains one of the top-performing in the area. Finally, the City of Norwich School.
Established in 1910, it has over 100 years of history. It boasts many impressive facilities including a purpose-built science centre, large playing fields, and an auditorium. With a 'Good' Ofsted rating, it too has a popular sixth form.
Avenue Junior School, The Free School Norwich and Magdalen Gates Primary School are three of the best-rated primary and junior schools in Norwich. Avenue Junior School is located within the Golden Triangle and is well-known for its excellent music and performing arts. Despite having no playing field, it does boast three large outdoor playing areas, as well as a purpose-built sports hall.
The Free School Norwich is a single-form entry school with places for just 196 pupils aged four to eleven. Situated in the heart of Norwich in a beautiful Georgian house, it has a unique term structure with six terms throughout the year, each six weeks long.
Finally, Magdalen Gates Primary School (known locally as "the village school on the edge of the city") has a strong community spirit. It is recognised for its inclusive practice and pupil diversity, as well as its work with asylum-seeking and refugee families.
Tell Garrington about your search for a property in Norwich.