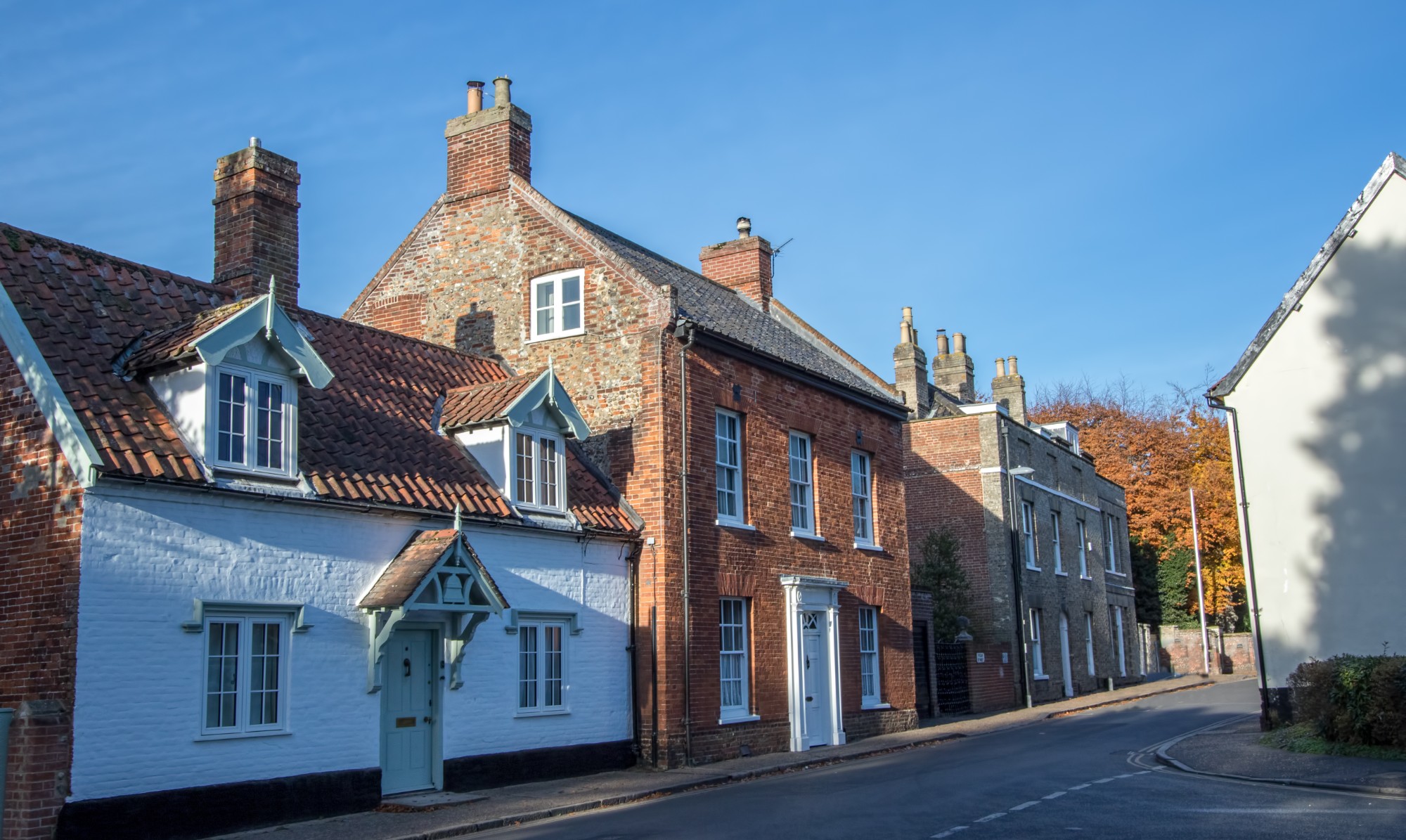 Houses in Norfolk – 14 places to look for a family home
Published Oct 17th 2020
6 mins read
When it comes to finding a family home, one of the most desirable locations in the UK is Norfolk. The county boasts fantastic rural and coastal destinations alike; from the bustling high streets of Holt to the untouched beaches of Blakeney.
With its stunning countryside and endless coastline, Norfolk is the perfect place for children to truly experience the great outdoors; meanwhile, areas such as the Norfolk Broads offer parents some well-deserved moments of peace and tranquillity.
So which area of Norfolk best suits your needs as a family and where should you be looking at houses in Norfolk? The team at Garrington have compiled this blog to help you choose the best location to search by highlighting 14 places to look for a family home.
1. The Broads
The instantly iconic Norfolk Broads boasts over 125 miles of stunning waterways. Set amongst beautiful countryside and dotted with picturesque towns and villages, its unique charm and tranquil atmosphere has seen it crowned the 'most peaceful area of the UK' on multiple occasions.
Villages such as Potter Heigham, Reedham, and Brundall can be found along its meandering waterways, boasting stunning waterside properties. Many are full of character and charm, hidden away in an idyllic setting and boasting impressive views; some even come with their own private mooring, perfect for those who enjoy sailing, fishing, or just want to explore all the Broads has to offer.
There are houses well suited to family life in a number of locations across The Broads, commute and schooling preferences will dictate which part of The Broads works best for your family.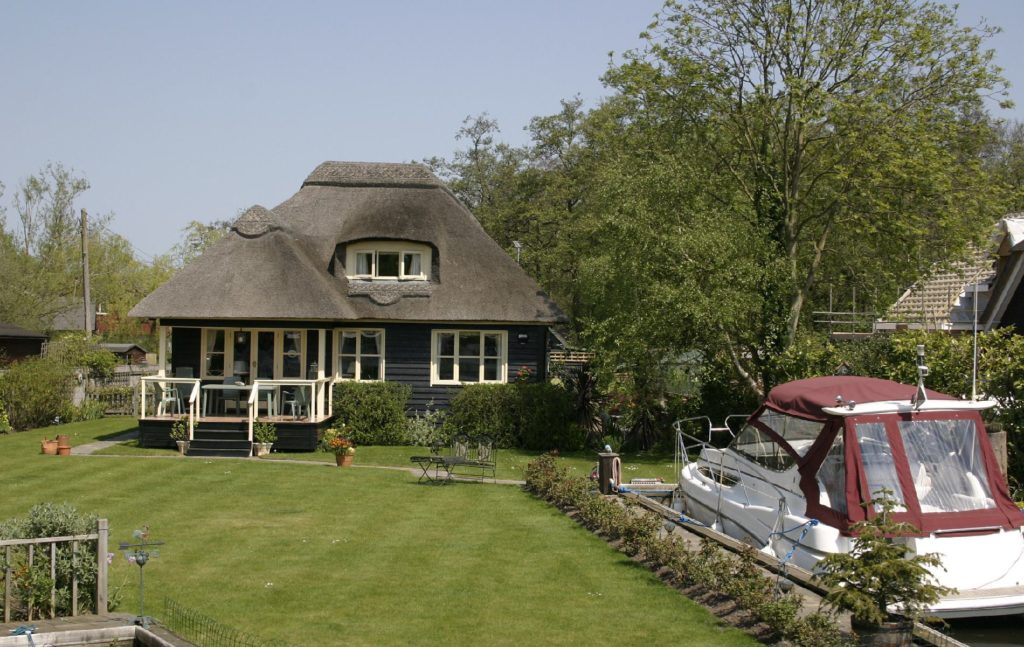 Breckland
At the heart of East Anglia is the Breckland District (known locally as The Brecks). An area rich with distinctive and stunning landscapes, it boasts acres of pine forests and sandy heathland, as well as beautiful glacial ponds and woodland meres. Breckland is also home to many plant and animal species not found anywhere else in the UK; as a result, it remains a vital area for wildlife conservation.
The historical market towns of Watton, Hingham, East Harling and Old Buckenham can be found within the Breckland borders.
2. Watton
With its thriving community and high street filled with independent shops, Watton is every inch a 'market town'. Local fishmongers, butchers and grocers come to market every Wednesday, while an additional farmers market is held on the first Saturday of every month.
A huge part of Watton's charm is its modest and unassuming atmosphere; attracting very few tourists, its close community is at the heart of everything it does.
It also has plentiful amenities, including a supermarket, chemist, and sports centre, plus infant, junior and secondary schools for those moving to the area with children.
3. Hingham
The small yet beautiful town of Hingham is one that overflows with English charm. With its two open greens and 14th century church, plus a selection of local shops and a delicious gastropub, Hingham is a sought-after location for those seeking a quiet way of life.
Full of gorgeous period architecture, including the grand Georgian houses that surround the old market place, Hingham is also home to pretty terrace and semi-detached properties for those on a smaller budget.
4. East Harling
The popular village of East Harling is situated just a few miles from the A11, offering easy access to the nearby towns of Thetford and Norwich.
East Harling is surrounded by rolling countryside, as well as gorgeous woodland with great public access for those who enjoy walking and cycling.
East Harling itself boasts many excellent facilities, including a dentist, primary school and doctor's surgery, as well as numerous tasty restaurants and pubs, such as the ever-popular Nags Head.
5. Old Buckenham
Famous for its large green and idyllic ponds, Old Buckenham is a popular and pretty village located just off the A11. A quintessentially English town, it is filled with charming village shops and pubs, as well as a gorgeous thatched church with a unique octagonal tower. With its two well-rated schools and friendly community, Old Buckenham remains a popular place to move for young families.
North Norfolk & Coastal
Set in an Area of Outstanding Natural Beauty, North Norfolk is filled with pretty rural towns and villages, including Holt, Burnham Market and Fakenham.
6. Holt
First mentioned in the Doomsday book of 1086, the vibrant town of Holt is steeped in history. Close to the coast and surrounded by gorgeous parks, its fine range of Georgian buildings establish the town as one of the most attractive in North Norfolk. The town centre is filled with independent shops and businesses, many tucked away in hidden, charming courtyards. As a result, the town is very friendly and personable with a strong sense of community spirit.
7. Burnham Market
Burnham Market is a gorgeous Georgian village whose 18th century houses, shops and chic boutiques all centre on its beautiful village green. Its amenities include a doctor's surgery, dentist, primary school and post office, as well as a selection of small shops with a butcher, fishmongers and hairdressers. A very trendy location, the property prices in Burnham Market reflect its desirability.
8. Fakenham
The largest market town in North Norfolk, Fakenham holds a market every Thursday to showcase the fantastic local produce in the area. As a result, the town has a lively social centre with a strong sense of community spirit.
Fakenham is surrounded by beautiful countryside and sits along the River Wensum, so you can enjoy the hustle and bustle of the town whilst also enjoying quieter moments in nature.
With its several supermarkets, cinema, doctors and dentist surgery, as well as its infant, junior and high school with a sixth form college, Fakenham has all the amenities you would need as a family.
If you are considering a home beside the sea, there is no better location than the North Norfolk coast. Its 45 miles of stunning coastline offers the best of both worlds, from its traditional seaside resorts to its quiet fisherman's villages.
9. Blakeney
The charming village of Blakeney is perfect for families looking to reconnect with the great outdoors. At its heart is the Blakeney National Nature Reserve, whose winding coastal paths and uninterrupted views make it the perfect place to walk the family dog. Blakeney Quay is a wonderful place to learn to catch crabs and go sailing, while Blakeney Point boasts a four mile stretch of gorgeous sand and shingle coastline.
The village itself features gorgeous flint cottages, a doctor's surgery and primary school, while the local Coasthopper bus service provides connections along the North Norfolk coast
10. Cromer
Just 30 minutes from Blakeney is Cromer, your quintessential English seaside resort. With wide-open beaches almost as famous as its pier, Cromer boasts rock pools, sandy shorelines, and waves perfect for surfing and paddleboarding. It has an excellent sense of community, evident by its annual Cromer Carnival and Lobster Festival that unites the town with fun and festivities.
There is a charming mix of small independent shops and cafes in the centre of town, which also has a hospital, doctors and dental surgery and library, making it the perfect destination for families.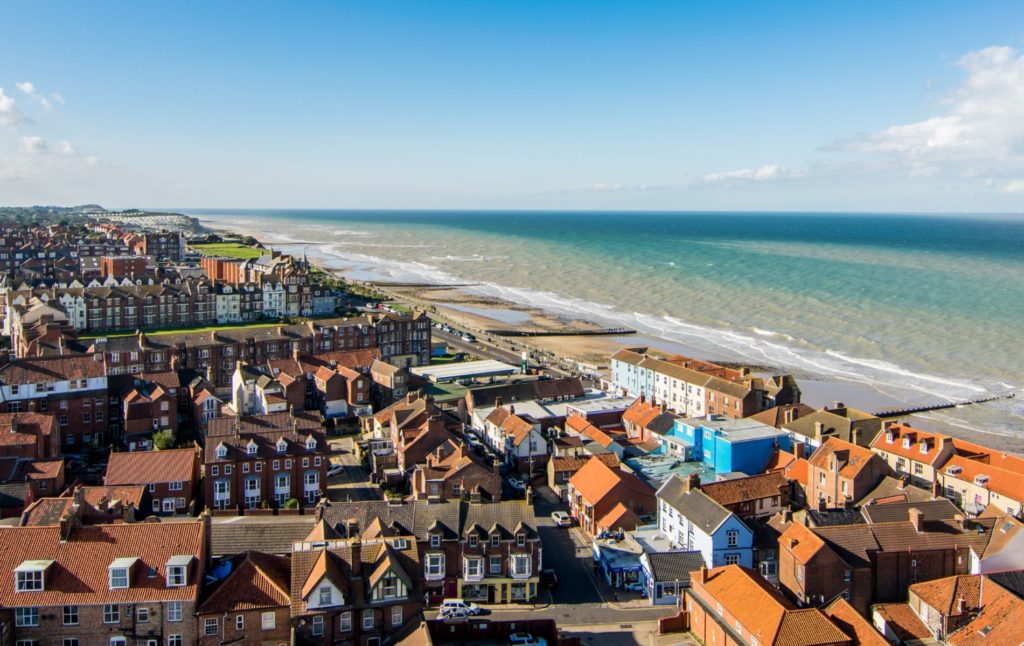 South Norfolk
With its scenic countryside, winding lanes and thatched cottages, South Norfolk is home to some of the most picturesque villages and market towns in the county. Those situated on the A11 Corridor have quick and convenient access to the A11; this main road provides direct links to both Norwich and London, passing Cambridge, Newmarket and Thetford, and connecting to the M11 and A14.
11. Wymondham
Set amongst the beautiful Tiffey Valley, Wymondham is a historical South Norfolk market town famous for its red roofs and impressive Abbey church. Its attractive town centre has managed to maintain a buzzing market atmosphere, while its beautiful medieval streets and Tudor buildings are always impressive. It also boasts plentiful amenities, including a large Waitrose, Lidl and Morrison's supermarket, Wymondham College and Wymondham High Academy, as well as a thriving leisure and health centre
12. Mulbarton
The picturesque village of Mulbarton is full of charm, from its large common and duck pond to its local walking trails. With its small yet friendly community, Mulbarton has everything you need for day to day life. There is a general store, post office, school, doctors and dentist, while the village also sits within the catchment area for popular secondary school, Wymondham College.
13. Brooke
The popular village of Brooke is located some eight miles south of Norwich. It offers excellent local facilities, including a primary school, post office, farm shop, garage, and thriving church. As a result, there is an excellent community spirit within the village. There is a regular bus service to and from Norwich, as well as to Bungay and the neighbouring village of Poringland
14. Norwich
Norwich is a 'fine city' steeped in history, from its medieval castle to its charming cobbled lanes. It is also a city that fully embraces modern life, with a unique glass-fronted Forum and multiple buzzing shopping centres.
Norwich boasts a thriving arts scene, one of the largest outdoor markets in the country, as well as multiple trendy cafes, pubs and restaurants to suit everyone's taste! With its train station and airport, Norwich is also a very well-connected city with direct links to London.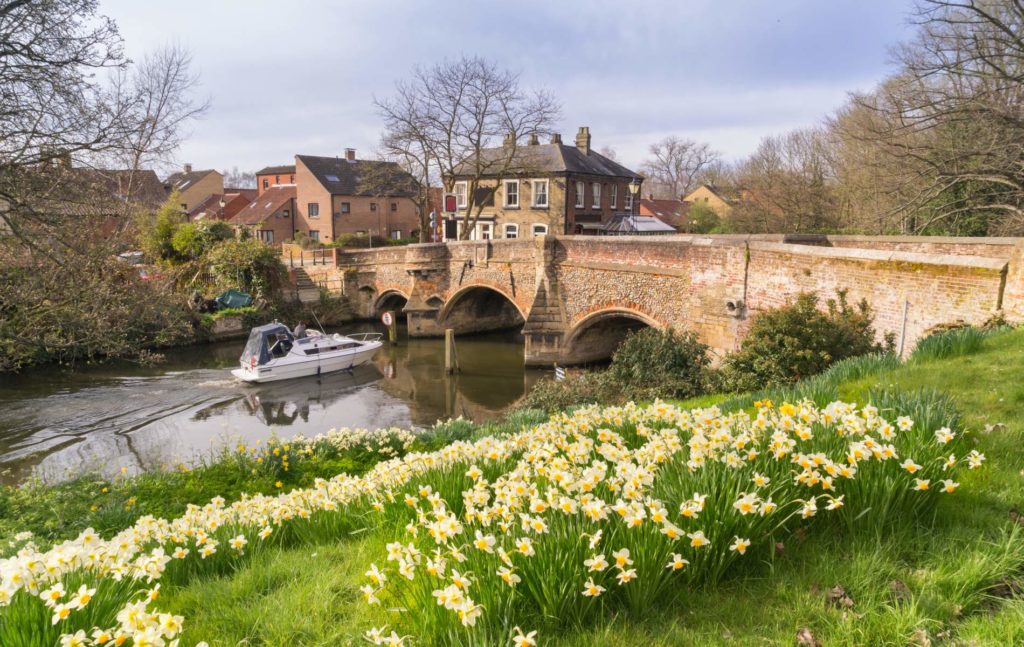 Just a short walk from the city centre is the Golden Triangle. Often dubbed 'the Notting Hill of Norwich', it has a strong cosmopolitan vibe thanks to its mix of students, families and professionals. With its tree-lined streets and wide range of shops, restaurants, cafés and pubs, there is always a buzz about the area. Its strong sense of community and friendly atmosphere make it a very desirable location to move to, while the local infant and junior schools are also well regarded.