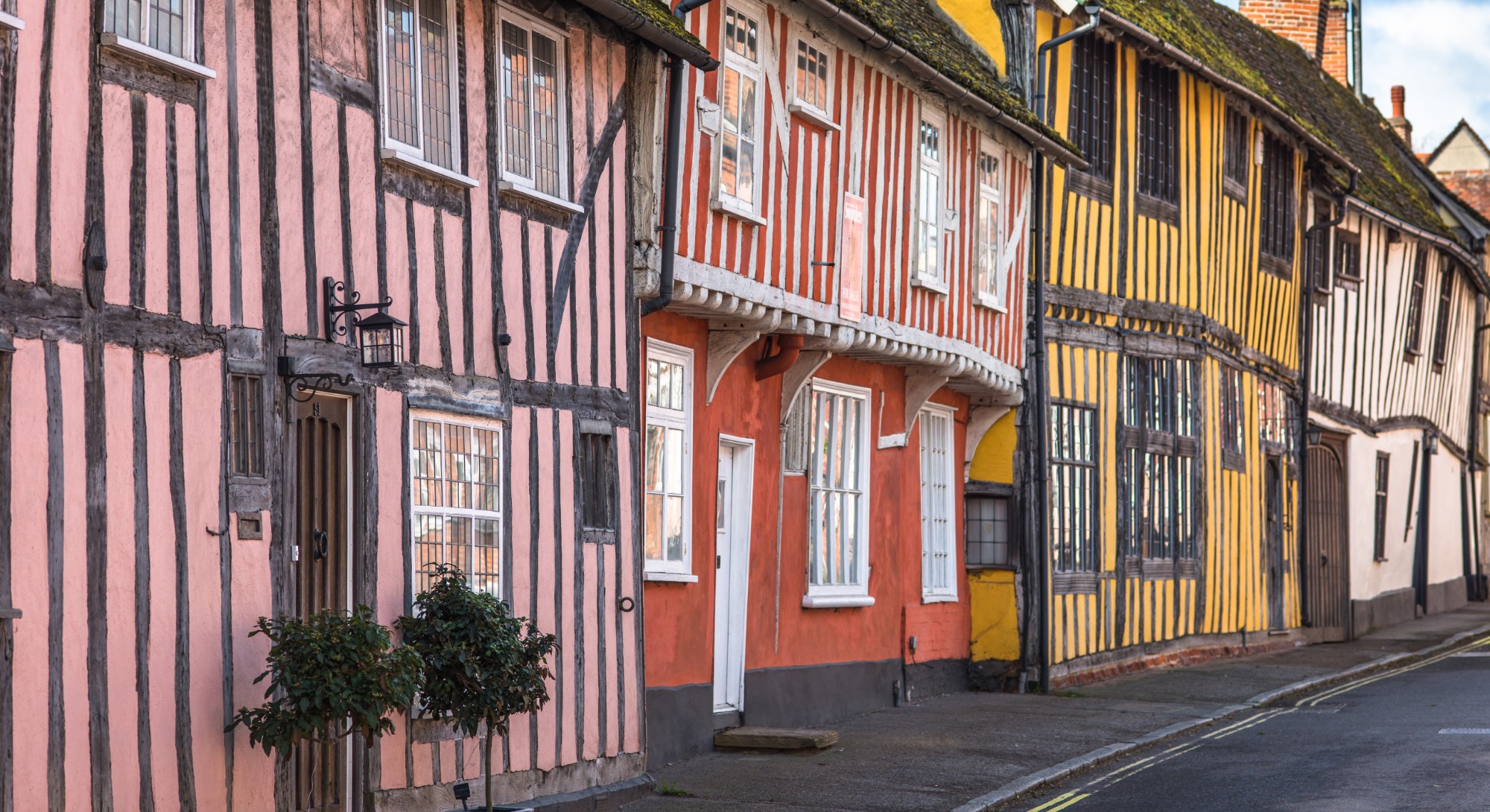 Suffolk Property – Move to the Country
Published Oct 17th 2020
5 mins read
The beautiful East Anglian county of Suffolk is one that overflows with natural beauty. From its 50-mile stretch of heritage coastline to its breathtaking heath and forest landscapes, the county is rich with stunning rural and coastal destinations alike.
Suffolk's charming villages and medieval towns are steeped in history, while its delicious local produce is renowned by foodies. As a result, the county is both a popular holiday destination and a hugely desirable area for those looking to relocate and move to the country. Here we consider where to look for Suffolk Property.
Coast and Country
The Suffolk Coast is situated just two hours from central London yet remains largely untouched. An Area of Outstanding Natural Beauty, it boasts a little something for everyone. Bustling seaside resorts sit alongside tiny fishing villages, while gorgeous sandy beaches are bordered by colourful heathland.
For a quiet and idyllic retreat, the picturesque villages of Thorpeness and Orford are a perfect choice; meanwhile, the vibrant seaside towns of Aldeburgh and Southwold are full of character and charm, with plentiful eateries and thriving high streets.
The Suffolk Coast is home to all number of stunning landscapes, be it grassy dunes, stretching shingle or scenic marshland. But this is not only limited to its coastline. Rural Suffolk is also rich with gorgeous scenery, most notably the hypnotic pine forests and purple heathland of the Brecks, as well as the interlacing rivers and lakes of the Waveney Valley.
While a low-lying county, Suffolk does have gentle undulations, resulting in far-reaching views across its wonderful countryside.
Many delightful villages are dotted throughout rural Suffolk, several of which are seemingly plucked from the pages of a storybook.
From the colourful thatched cottages of Polstead to the wonderfully wonky medieval village of Lavenham, these hidden gems might be some of the most scenic villages in England. Expect winding country roads, charming local pubs and picturesque churches abound!
Commuting to London
Suffolk is perfectly situated for easy commuting to and from London. In terms of rail travel, you can take a direct train from Ipswich station to London Liverpool Street in just over 1 hour 15 minutes.
On an average weekday, up to 68 trains travel this route between the hours of 05:12 and 22:43 (roughly every 30 minutes). Buses from nearby towns, including Colchester, Maidenhall and Martlesham, stop right outside Ipswich station, which itself has a large, 24-hour car park with just under 500 spaces.
Greater Anglia operates direct connecting trains to a wide range of stations across Suffolk. These include Beccles, Bury St Edmunds, Felixstowe, Lowestoft, Newmarket, Stowmarket and Woodbridge, as well as many others.
Bury St Edmunds
The market town of Bury St Edmunds is a historic jewel of West Suffolk. Perhaps best known for its striking abbey ruins and their award-winning gardens, it is also rich with other historical gems.
Examples include the magnificent St Edmundsbury Cathedral, Bury St Edmunds Theatre Royal (the only surviving Regency playhouse in Britain), and the Angel Hotel, a luxurious Georgian coaching inn that was once frequented by Charles Dickens.
A huge part of Bury St Edmunds' charm is how it blends the old with the new. Over 200 boutique shops, restaurants and delis line its charming medieval streets and elegant Georgian squares, while the ultra-modern, open-air Arc Shopping Centre is full of big brands and high street chains.
Once titled the 'Happiest Place to live in the East of England', Bury St Edmunds is noted for its low crime rate, neighbour friendliness, and community spirit. As a result, it remains a popular residence for young adults and families, with 77% of the population under the age of 65.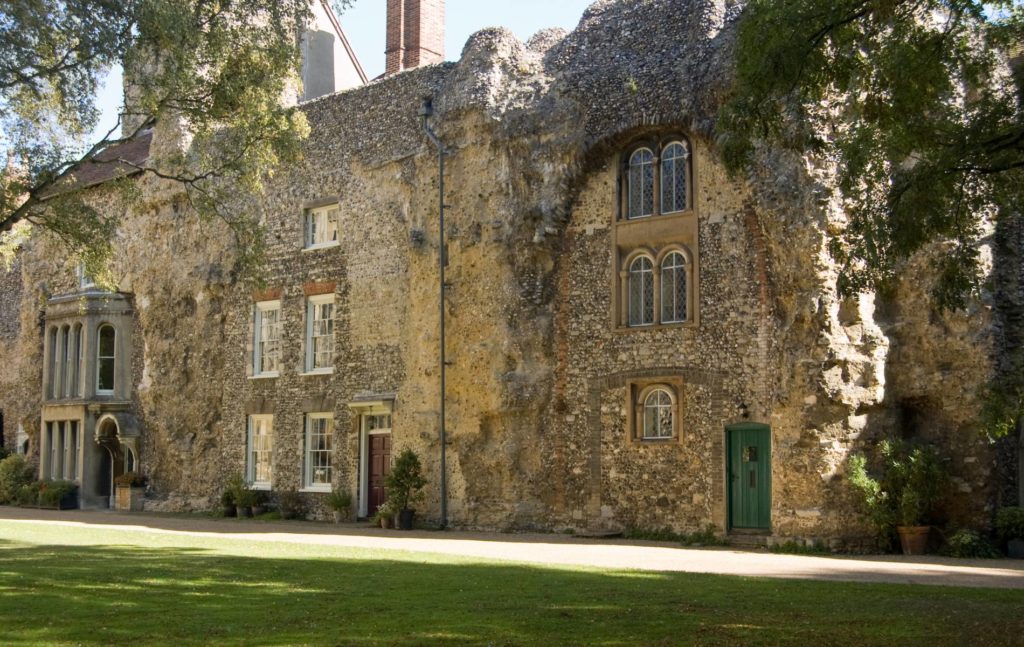 Ipswich
Surrounded by stunning rural landscapes and dramatic coastline, Ipswich is a town rooted in maritime and agricultural history. Home to the Tudor-era Christchurch Mansion and Wolsey Art Gallery, it also has a cutting-edge theatre and arts scene.
The Regent Theatre hosts all number of big-name comedians, singers and shows, while the Ipswich Art Gallery regularly showcases the best in popular modern art and design exhibitions.
The recent development of the Ipswich Waterfront as a thriving residential and commercial centre has really enhanced the town. It is buzzing with restaurants, bars, retail units and offices, whilst offering stunning views across the River Orwell.
Alongside the modern architecture of the Waterfront is old Ipswich town, complete with listed buildings and independent shops. At its centre are gorgeous Georgian townhouses and 16th-century terraces; to the West, you can find Victorian villas, 1920s semis and Edwardian townhouses.
Woodbridge
On the edge of an Area of Outstanding Natural Beauty is Woodbridge, an idyllic quayside town filled with wonderful riverside paths and stunning scenery. The iconic working Tide Mill sits alongside the River Deben, a tidal estuary rich with wildlife and walking opportunities.
Woodbridge may appear calm and serene, but there is always a buzz in the air! The town is full of fantastic independent shops, from boutiques and delis to tailors and florists, plus all number of fabulous food venues.
The Galley is a particular highlight, as is The Crown, which was recently named by the Times as one of the 'Best 30 pubs for lunch in Britain'. Meanwhile, regular food, vintage, and craft markets are also held throughout the year.
With its thriving community, boutique shops, and riverside paths, Woodbridge is perfect for those who seek an idyllic location but still crave a lively town atmosphere. Its charming cottages, Victorian terraces and Tudor townhouses also ensure there are properties to suit everyone.
Lavenham and the surrounding area
The Suffolk Wool Towns (so named due to their extraordinary wealth during the British wool trade) are some of the prettiest and best-preserved historic towns in Suffolk. Their hallmark timber-framed houses, grand churches and quaint pastel architecture make them the ideal destination for those seeking a countryside retreat filled with charm and character.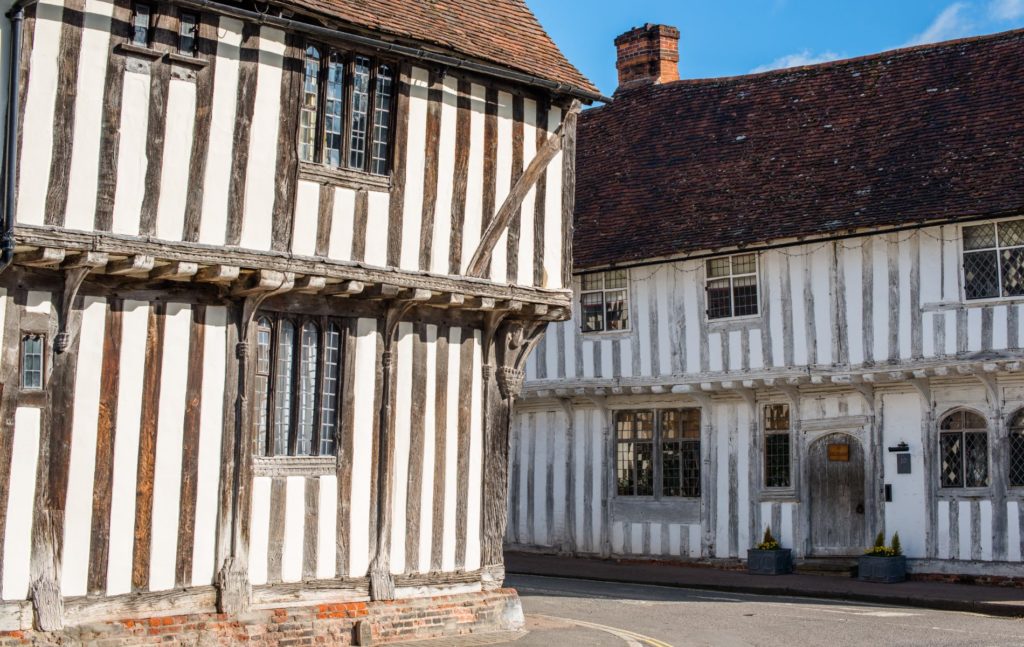 Set amid the rolling Suffolk countryside, the village of Kersey is often regarded as one of the most picturesque villages in East Anglia. The same can be said for Cavendish, whose signature 'Suffolk Pink' thatched cottages border a charming village green and pond.
Elsewhere, Long Melford is instantly recognizable by its spectacular church and stunning Tudor architecture, while the pretty village of Clare boasts a priory, medieval castle and beautiful country park.
Lavenham is the quintessential Suffolk Wool Town. Often called 'England's Best-Preserved Medieval Village', its delightfully crooked streets are lined with pretty Tudor cottages and cosy redbrick terraces. The village is full of delicious eateries, including Number 10, a beautiful 15th century restaurant, and the quirky Munnings Tea Room, whose wonderfully wonky building must be seen to be believed!
Lavenham has over 300 listed buildings, each with a unique character and a price to reflect it. An hourly bus service offers connections to Colchester and Sudbury, while the nearest rail station is just six miles away.
Deben Valley
Located between the River Deben and the Alde & Ore Estuary, the Deben Valley is an Area of Outstanding Natural Beauty. Set amongst stunning heathlands, seascapes and farmland, its un-spoilt habitats make it an important area for nature conservation.
The Deben Valley is also rich with history, home to a number of heritage sites including the hauntingly beautiful Sutton Hoo: as the site of two early medieval cemeteries, it remains one of the greatest archaeological discoveries of all time.
The picturesque villages of Sutton, Shottisham, Hollesley, Boyton, Alderton, Ramsholt and Bawdsey can all be found in the Deben Valley. Filled with beautiful properties, stunning scenery and delicious eateries, they are the perfect locations for those seeking a quieter way of life.
Contact Garrington regarding your search for a Suffolk Property.