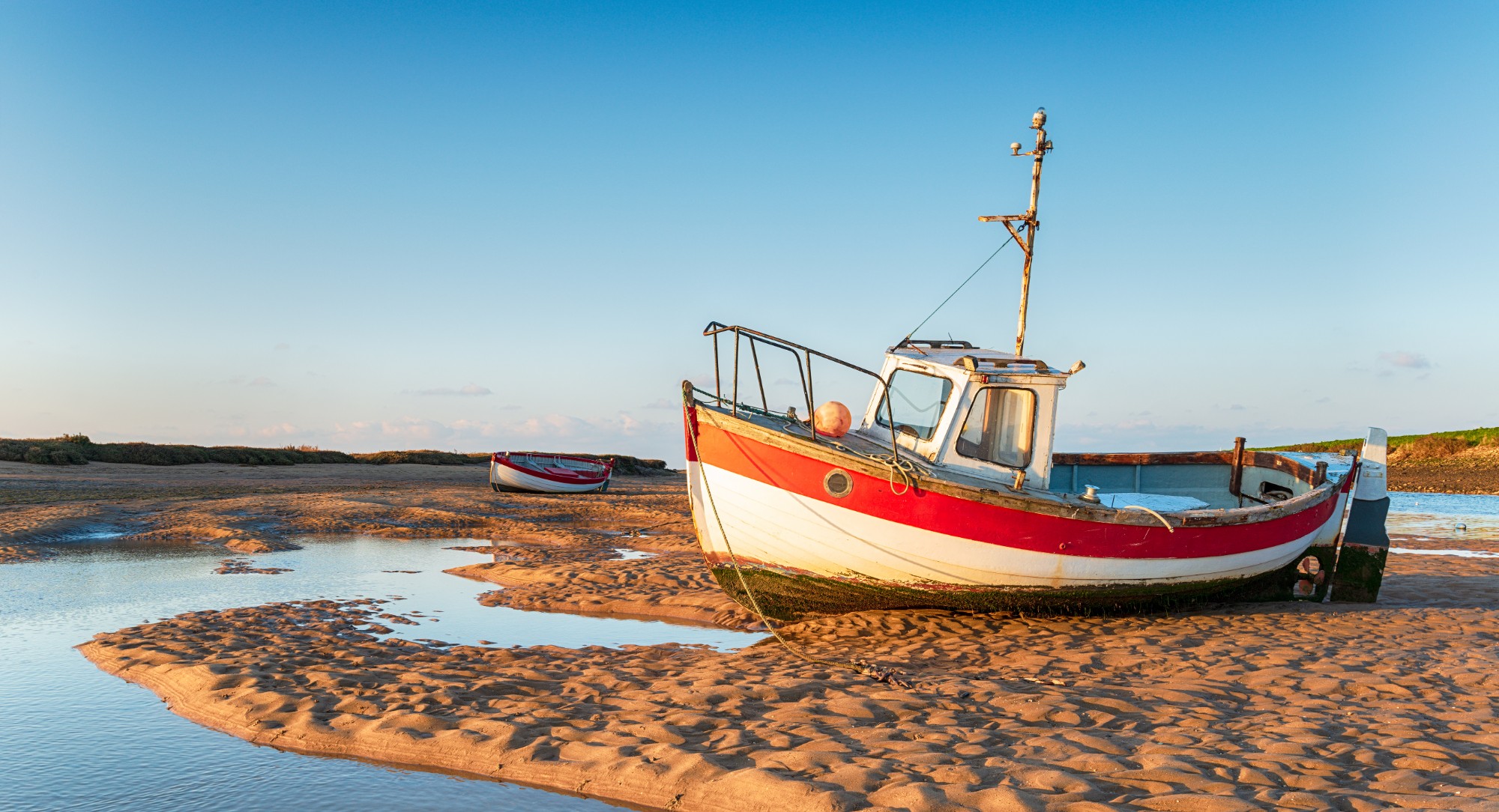 Seaside towns and villages in Norfolk
Published Aug 21st 2020
7 mins read
There are many wonderful seaside towns and villages in Norfolk and with over 90 miles of coastline, Norfolk is home to some of the best beaches in the UK.
It presents the best of both worlds, boasting traditional seaside resorts and bustling harbours alongside serene marshland and untouched sands. In fact, with all it offers its residents, the Norfolk coast has become a popular choice for those looking to take up residency by the sea.
In this blog, we consider locations along the north Norfolk coastline from the west as we discover the best that Norfolk has to offer from Hunstanton's unique striped cliffs to Holkham and its beach and estate.
These seaside towns and villages in Norfolk should be on any house hunter's list of considerations when looking for a place to live by the sea.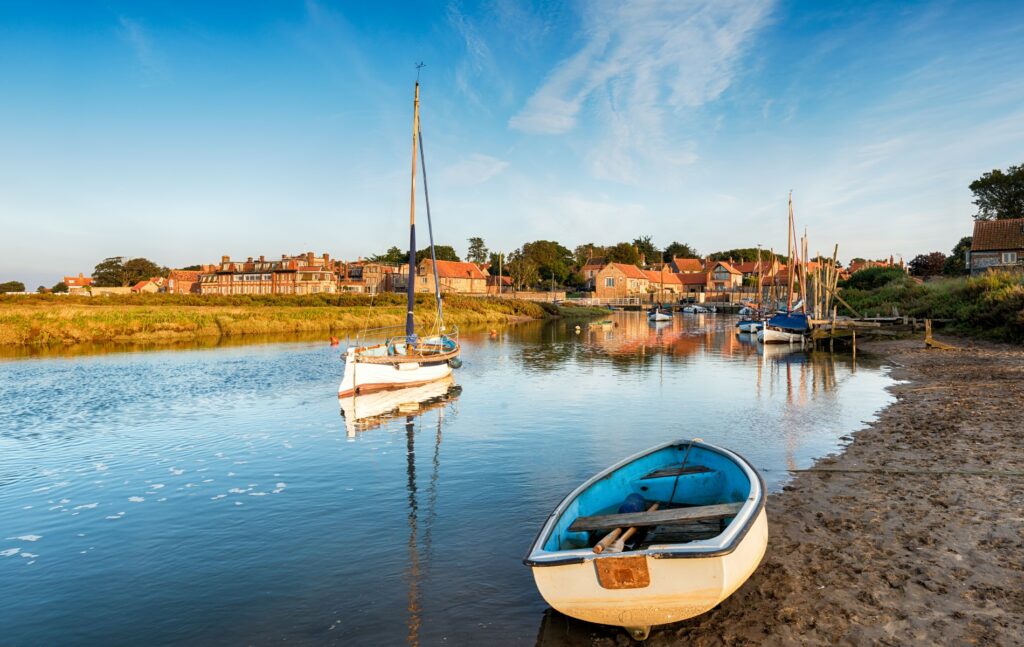 Hunstanton
As the only west-facing resort on the east coast, the elegant town of Hunstanton is famous for its spectacular sunsets.
A purpose-built resort back in 1846, Hunstanton is full of Victorian charm, as seen by its tranquil Esplanade Gardens and gothic terraced houses. However, it also remains a down-to-earth seaside resort, boasting a buzzing family centre, complete with crazy golf, donkeys, amusements, a funfair, and a sea life centre.
Residents choose Hunstanton for its old-fashioned charm: it's friendly and unpretentious, with an eclectic mix of properties at prices to suit every budget.
Although the nearest train station is 16 miles south in Kings Lynn, Hunstanton is part of the trusty Coasthopper bus route, keeping it connected with all the towns and villages along the North Norfolk coast.
If a seaside resort is not your preference, head down the road to Old Hunstanton. Away from the bustle of the crowds, this village boasts carstone-built cottages, traditional British pubs, and a slow pace of life. Old Hunstanton is perfect for those seeking a quiet village life whilst still enjoying the beauty of the coast, thanks to its expansive sands and famous striped cliffs.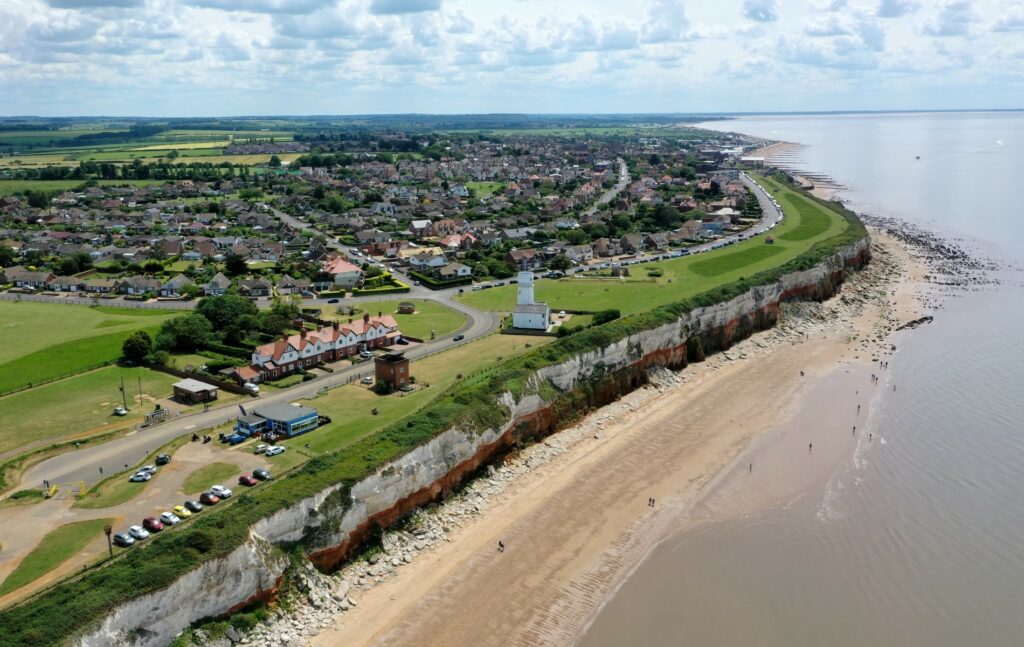 Thornham
About 4 miles east of Hunstanton is Thornham, a small coastal village situated in the Norfolk Coast Area of Outstanding Natural Beauty.
Separated from the sea by its atmospheric marshes, it is popular with walkers, birdwatchers, and photographers, thanks to its distinctive landscape of sand dunes, reed beds, marshes, and mudflats.
Some call Thornham the birdwatching capital of Britain, with nearby reserves Holmes Dunes and RSPB Titchwell Marsh home to barn owls and marsh harriers, plus all number of migrating birds. Meanwhile, walkers flock to the village to enjoy its lush countryside and magnificent seascapes, as part of the Norfolk Coast Path and Peddar's Way.
Thornham's attractive, traditionally-styled properties make it a sought-after location. Its local retail and food outlets are also very popular; the nearby Drove Orchards farm shop sells fresh groceries and local produce and is also home to a fishmonger, plant nursery, and selection of lifestyle shops.
The Coasthopper bus and number 36 Coastliner pass through Thornham, both of which travel along the North Norfolk coast. The nearest rail station is 20 miles south in Kings Lynn, with direct routes to Norwich station where you can change for London.
Burnham-Overy-Staithe
The picturesque village of Burnham-Overy-Staithe lies between the larger village of Burnham Market (less than 1 mile to the west) and Holkham (some 3 miles to the east). With its creek-side harbour, salt marshes, wildlife and sand dunes, it is a peaceful spot away from the crowds.
Residents choose Burnham-Overy-Staithe for its quiet, gentle way of life.
The beach is one of the more inaccessible in the area: a one and a half-mile footpath link the village to the sand dunes and unspoilt beach, so young families and casual day-trippers tend to stay away. Instead, with its many trails and coastal paths, Burnham-Overy-Staithe is more popular with keen walkers and ramblers, or recreational sailors visiting the harbour. As a result, the village has a very laid-back character, perfect if you want to escape the bustle of city life.
Burnham-Overy-Staithe is one of the most desirable villages in North Norfolk. Its nearest rail station is 22 miles south in Kings Lynn but is easily accessible by the Coasthopper bus that passes through the village.
Brancaster
Brancaster sits on the Norfolk Coast Path, with thriving fishing and sailing communities centred on its lively harbour. Thrill-seekers ascend on Brancaster for kiting, sailing, bodyboarding and more, while its dog-friendly beach boasts miles of gorgeous golden sand.
Throughout the year, Brancaster remains a lively village. With its popular Christmas market, the Outdoor & Wildlife Festival, and a wide range of shops at Dalegate Market, there are plenty of places to sample its local produce. In particular, Brancaster is renowned for its mussels, readily available in the eateries or to buy from stalls around the village.
On the whole, Brancaster is a far more active village than others along the North Norfolk coast.
A popular second home area, the village features lots of converted fisherman's cottages and traditional cobbled façades. Located just off the A149, the nearest rail station is found 20 miles south in Kings Lynn; however, the Coasthopper bus is again at hand to connect you with the rest of the North Norfolk coast.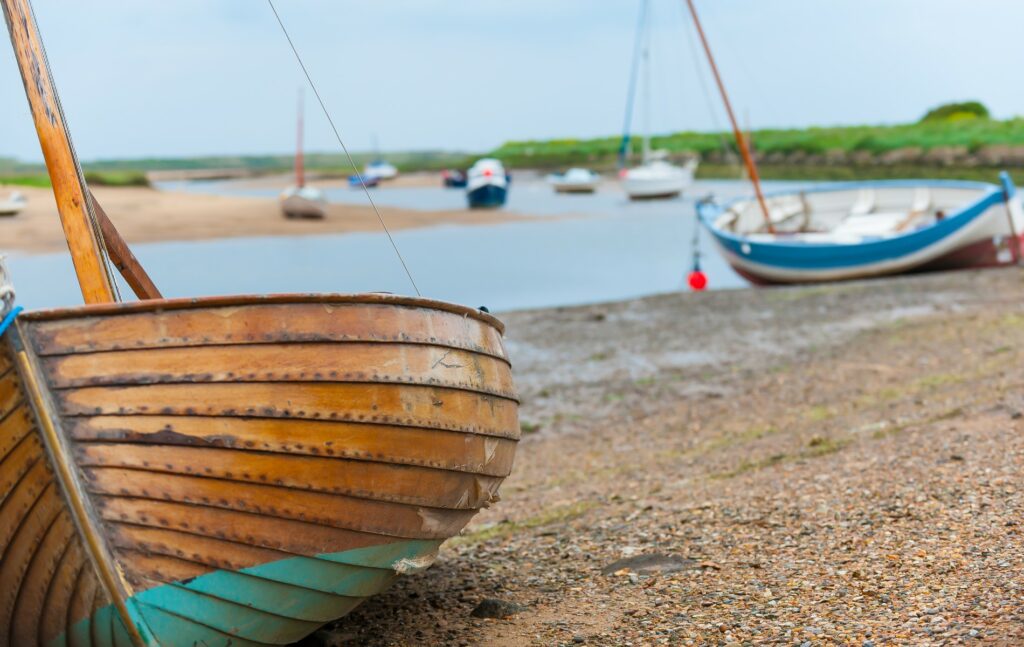 Holkham
Holkham is a jewel of the North Norfolk coast, with an award-winning beach that boasts expansive white sands that never feel crowded, even during peak summer. It is framed by rolling sand dunes and a ribbon of pine woods that separate the beach from the meadows behind.
Holkham is also part of one of the largest National Nature Reserves in England, and many rare species of flora and fauna can be found across its landscape.
Home to the Earl of Leicester, Holkham Hall (an 18th-century Palladian house) sits in the middle of a 25,000-acre estate. Surrounded by rolling parkland, the Hall is famous for its Fallow Deer and Red Deer that roam free.
Just outside its gates sits Holkham village, home to a selection of businesses including Everything Outdoor and Adnams. Its dog-friendly pub, The Victoria Inn, serves local produce from the Holkham Estate and is incredibly popular with visitors and locals alike.
The Holkham Estate owns many properties across the North Norfolk coast, often refurbishing them to a very high standard, with a focus on "comfortable homes for easy, modern living." The estate lets properties as a primary residence and prioritises those who live and work locally; however, those moving into the area are also considered.
Happisburgh
Sitting on the far side of the North Norfolk coast is the delightful village of Happisburgh. Pronounced "Haze-bruh", it's long, secluded sandy beach has the most stunning panoramic views of the North Sea, watched over by the village's quite extraordinary white and red striped lighthouse; the oldest and last independently-operated lighthouse remaining in the UK.
There is an abundance of coastal paths and beautiful scenery in and around the village.
Although known for its coastal erosion over the years, the landscape has thrown up masses of flint tools and fossils, some dating as far back as 850,000 years. Happisburgh is located on the Deep History Coast Discovery Trail and the village has its own Discovery Point.
15th century St Mary's church stands tall above the village whose streets and lanes are home to a variety of independent shops, offering locally sourced produce and handcrafted goods.
There are a variety of places to eat and drink including the local pub, coffee shops and café.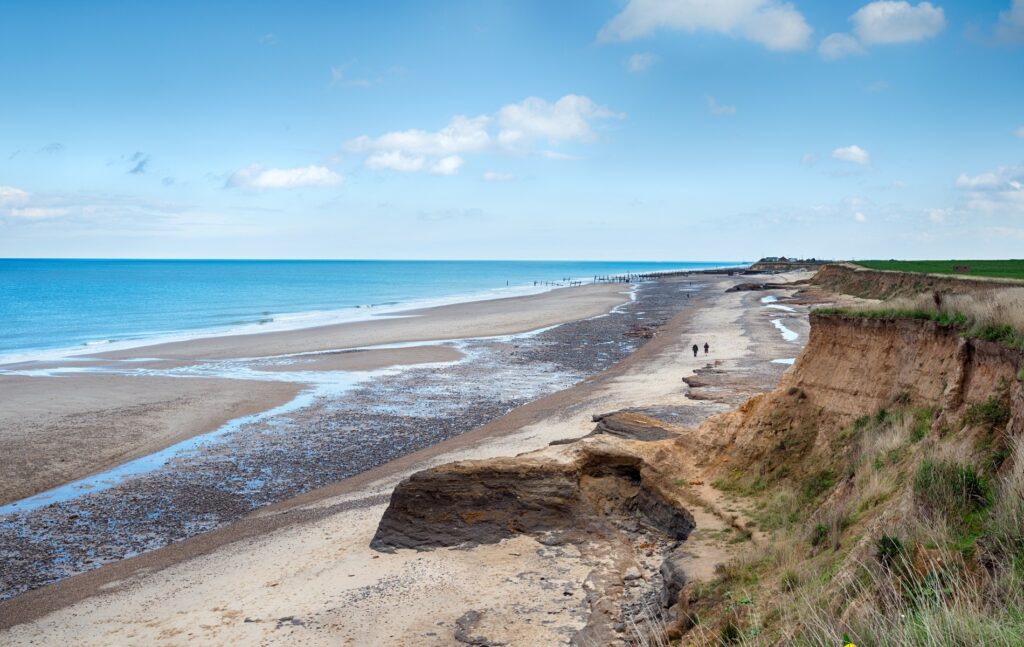 Blakeney
An Area of Outstanding Natural Beauty and with the beautiful Norfolk Broads nearby, the charming village of Blakeney is the perfect spot to explore the natural Norfolk coastline.
Blakeney's National Nature Reserve is home to plenty of local wildlife, including migratory birds and seals – take a visit to Blakeney Point to see the seal colonies.
The popular village with its attractive flint fishermen's cottages has a friendly, bustling community and there is a good choice of places to stay.
Blakeney has a variety of local pubs, cafes, delicatessens and coffee shops offering a variety of wonderful locally sourced seafood, Morston mussels, locally produced samphire, crab and fresh bread, as well as art galleries and gift shops to browse.
Just a short walk from the quay is Blakeney Guildhall, the former home of a wealthy merchant, which has a fascinating 15th-century brick-vaulted undercroft.
On the outskirts of the village is St Nicholas Church, thought to have been built between the 13th and 15th centuries which has two towers and amazing views.
Cromer
Cromer is considered the seaside capital of North Norfolk and is proud to be called the 'Gem of the Norfolk Coast'. Standing tall atop the coastal cliffs, you can (carefully) follow several zig-zag paths down to the town's sandy beaches and coastline.
Originally an ancient fishing town, a trade that is still a mainstay of the village today and renowned for lobster and crab, Cromer combines the old with the modern amenities of a seaside resort.
Plus there's the 14th century Church of St Peter & St Paul, with its impressive high tower that stands at 160ft and provides far-reaching views, which leads out to a maze of ancient streets and lanes full of listed buildings that house an array of shops, cafes, delicatessens, eateries, cafes and pubs.
There are also plenty of places to visit, beautiful paths and walks, art galleries and museums, cafes and restaurants; there's something for everyone in Cromer.
This vibrant, thriving village centres around its 500ft long pier that was opened in 1901, with the pavilion at the end of the pier being constructed in 1905.
With the help of restoration work to strengthen the Victorian pier, it is now the home of the Pavilion Theatre and the last 'end of pier' Seaside Show in Europe.
Cromer's links to the sea are epitomised by its Lifeboat stations and the RNLI, who put Cromer on the map in protecting and helping those along the North Norfolk coastline.
The RNLI Henry Blogg Museum shows the history of the Cromer men and women who bravely served in the RNLI throughout the years.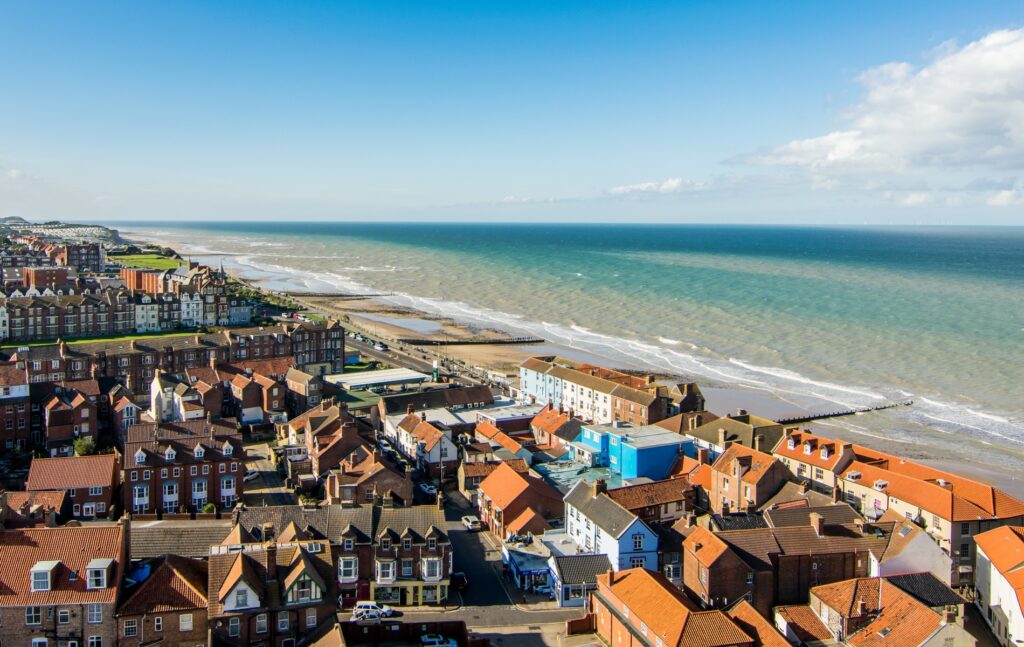 Sheringham
Located on the Deep History Coast is the delightful, colourful, traditional former fishing village of Sheringham.
The village is an eclectic mix of traditional, historical and modern, contemporary living that is particularly evident in the murals that decorate the buildings along the promenade.
Sheringham's Blue Flag, award-winning beach stretches for miles and the promenade, with its row of colourful beach huts, provides a wonderfully peaceful, scenic walk that can be enjoyed by people of all ages.
A vibrant, bustling, thriving seaside town and community, there are a plethora of independent shops and retailers that sit alongside country pubs, restaurants, traditional tea rooms, cafes and delicatessens offering an array of delicious, locally sourced produce, handcrafted gifts and other wares. Every Saturday, and every Wednesday during the summer months, there is a local market with an abundance of stalls selling all you could possibly imagine.
There's always plenty to do in Sheringham, from museums and art galleries to visiting historical places and fabulous gardens.
Just a short distance from the town centre is the National Trust's Sheringham Park which offers beautiful flora and fauna, as well as lovely sea views.
Sheringham's annual Viking Festival must not be missed, particularly for its ceremonial boat-burning finale on the beach. Add to the list the Crab & Lobster Festival and the North Norfolk Railways' Steam Gala which is held in the autumn.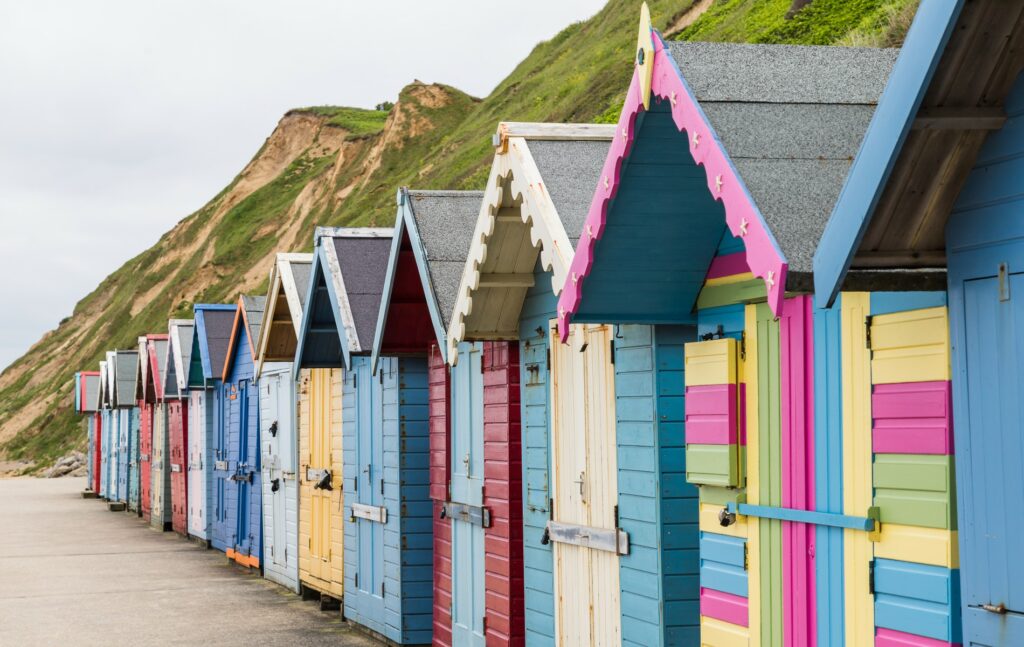 Norfolk property finders
Those looking for a seaside town or village in which to find a home won't be disappointed by the many locations to consider in Norfolk.
Choosing which location is best to suit an individual's lifestyle and requirements can prove challenging to those who don't know the local area – an experienced Norfolk property finder could be a great help.
To learn more about our tailored services and to discuss your plans for buying a home by the sea please do not hesitate to contact us, without obligation.