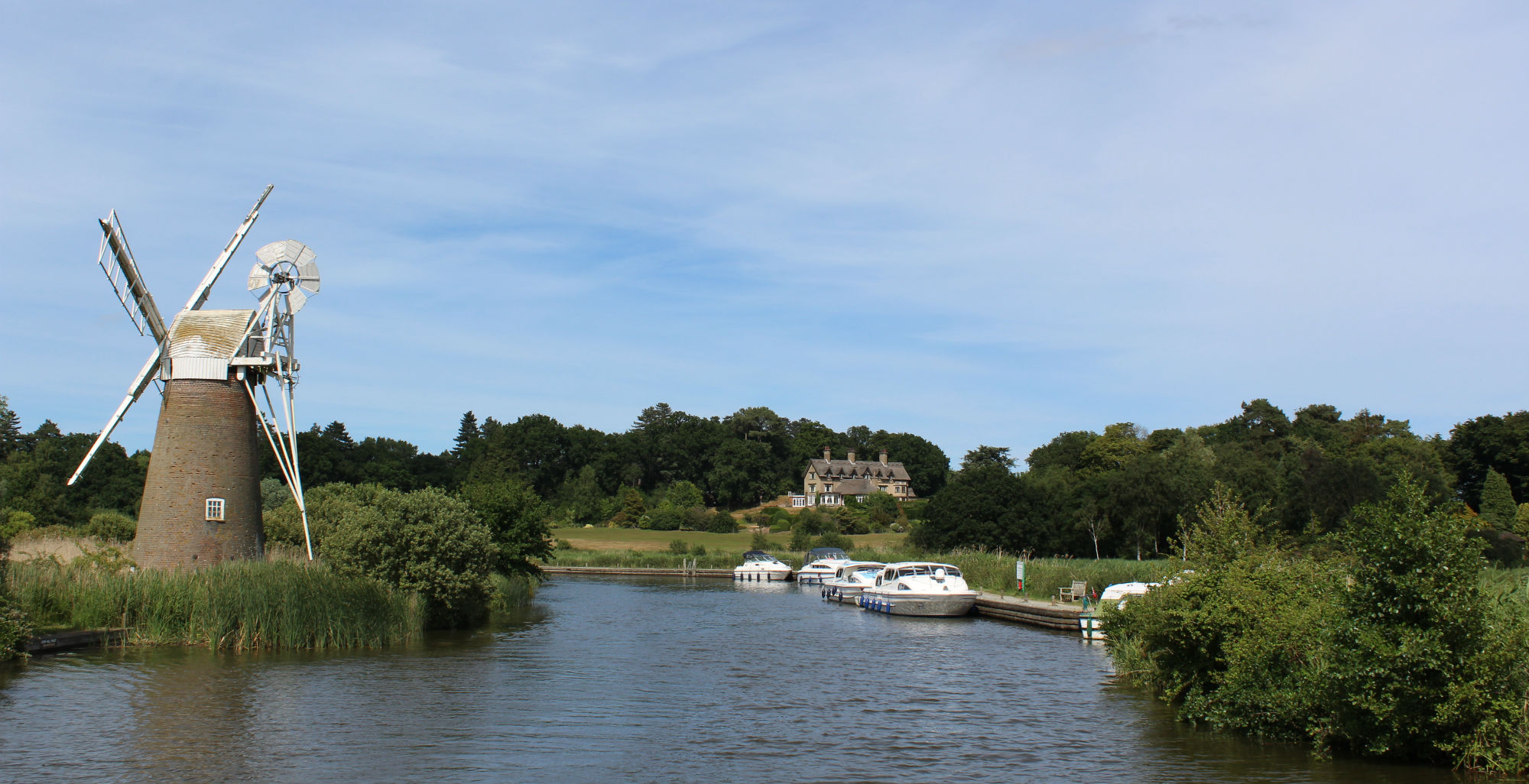 Norfolk Broads Property
Published Nov 8th 2019
4 mins read
Norfolk has many wonderful places to live, whether that be a coastal village or an inland countryside retreat. One further gem of the county of Norfolk are the Norfolk Broads – known as The Broads locally. The Broads forms part of The Broads National Park and are made up of several linked rivers and lakes and cross into both Suffolk and Norfolk. The area is managed by the Broads Authority and is a special area that is protected.
The Broads are huge and cover large area within Norfolk. In total there are 7 rivers and 63 broads (of varying sizes). 13 of these are broads are open for wider access and public boating.
Norfolk Broads property is popular with buyers for many reasons, here we take a look at why and where you might consider looking in the area.
What makes the Norfolk Broads so popular?
The Broads are very popular with residents and visitors alike as they offer peace and quiet and a genuine stillness to life. The area is a massive habitat for wildlife – whether that be water based or land based.
The Broads by their very nature are found inland and therefore the water is not tidal which further adds to the tranquillity – particularly when the water is not being used by boats – typically at sunrise or sunset. In addition to boating the Broads are a popular destination for fishing – whether be off bank or off boat.
Norfolk Broad property is also popular due to where it is situated; located within close proximity of the City of Norwich and the amenities on offer there, as well as the north and east Norfolk coastlines and their beaches.
What types of property are available in the Norfolk Broad areas?
There are many different styles of Norfolk Broads property, houses available within the Broadland area range from waterside homes with their own boat moorings to traditional village houses and cottages. The style of properties is anything from flint cottages to wonderfully characterful barn conversions to converted boat houses.
Key villages on the Norfolk Broads
Wroxham is the main town found within the area that is the Norfolk Broads and has its own railway station which provides links to Norwich. The town is home to several shops including the key department store for the area Roys of Wroxham.
Wroxham is also the main place that boating companies are located for holidaymakers to start and finish their holiday on the Broads. Within the town and adjoining Hoveton there are a number of houses available to buy of varying sizes – some of which have water views. A great deal of residents, specifically those that own as holiday homes, choose the outlying smaller villages and Broads as set out below.
Horning is found on the north bank of the River Bure and has a population of just over 1,000 people. The village is very popular and has a number of small shops, pubs and restaurants – some of which are adjacent to the Broads. The village of Horning is found between Wroxham and Ludham.
Ludham is another popular area found with the Norfolk Broads and has a population of around 1,200 people. It is closely linked to Potter Heigham which is found 20 miles north east of the city of Norwich and is famous for its low medieval bridge.
Another location we'd consider looking for Norfolk Broads property is Hickling, adjacent to Potter Heigham, it has one of the largest Broads at over 1,500 acres and is also home to the largest reed bed in England. Hickling has 2 pubs, one of which is on the water, and a small convenience shop.
Filby Broad is a waterway that provides no real access to the public for boating or fishing and as such has an abundant collection of wildlife as are able to live without human disturbance. The Broad also serves also as a water source and reservoir for neighbouring towns. Filby and the picturesque Filby Broads are a particular tranquil and popular place to live.
Riverside properties in Norfolk
Given the amount of open water found in the county there are always fantastic opportunities for home ownership that will, sometimes benefit from stunning views that waterside properties can provide – whether that be looking at the sea, a river or a Broad.
The most popular properties typically have their own private boat moorings or boat houses so owners can benefit from a home adjacent to the water and also the luxury of being able to access the waterway from their own Norfolk Broads property.
Houses that have this benefit are also extremely popular with holidaymakers and therefore those that own and let out their property for others to enjoy as a holiday home can achieve a premium.
Homes with river or sea views for sale
At any given time, there are always several properties available to buy within the wider area of the Norfolk Broads and those that have river or sea views. This will likely suit most tastes and budgets – whether that be a riverside family house with private mooring for boats or smaller cottages.
It is often the case that the best properties, many hidden gems, don't even get to market as are carefully placed by sales agents to particular, credible parties. Therefore, availability and what is actually visible on well-known property portals does not always reflect the total extent of what can actually be bought.
Norfolk property finders
It is well known that buyers represented by a property finder often have access to the full market and many more purchasing opportunities. If you would like to learn more about our services and how we might be able to help you find the perfect property please contact us to discuss your search in greater detail without obligation.