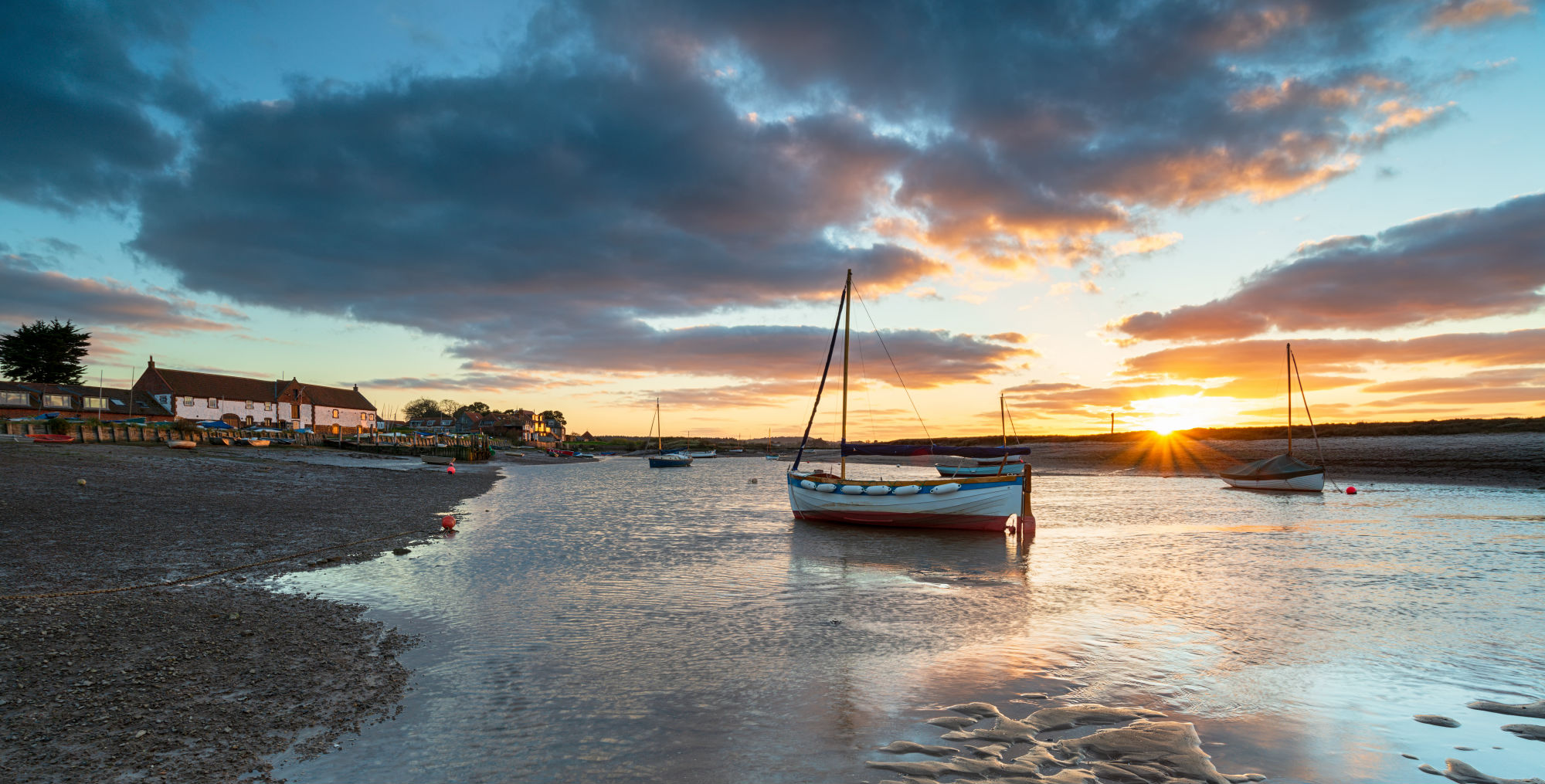 Coastal property for sale in Norfolk
Published Nov 22nd 2019
3 mins read
Arguably one of Norfolk's best features; the Norfolk coast boasts large sandy beaches, far reaching views and many opportunities for coastal activities. These components make living or indeed holidaying here a very attractive prospect. When considering coastal property for sale in Norfolk there are many locations and properties types that have much to offer whatever the purpose of the home.
The county of Norfolk is expansive and its population small when compared to its surface area giving the county a wonderful natural feeling of open space. This sense of space combined with the stunning sea views, access to beautiful sandy beaches and the picturesque properties available make the Norfolk coast a highly desirable place to live and visit.
Property for sale with sea views
When looking at coastal property for sale in Norfolk buyers often state that they would like a home with a sea view. There are properties of many different types and ages along the coast with sea views; the most desirable homes rarely become available to buy.
The most prestigious homes never reach the open market instead being sold entirely off market; a property finder will ensure their client has access to every possible opportunity.
Which towns are on the seafront?
The North Norfolk coast essentially stretches from Hunstanton in the West to Cromer in the East. This is a coastline of about 38 miles and is home to enormous stretches of seas, skies, beaches, villages and small towns. There are four main towns that are sea facing along the coast:
North Norfolk – Champagne coast locations?
Along the coast road there are several smaller towns and villages in succession that are referred to as the 'champagne coast'.
They are made up of a mixture of cottages and large family homes and range in age from older flint cottages to highly eco friendly contemporary barn conversions and new build homes, renovated timber framed and clad houses. Four of the most popular locations on the Champagne coast are:
When looking for coastal property for sale in Norfolk many are drawn to the locations on the champagne coast, the area is particularly sought after; the most prestigious properties here rarely become available on the open market and unrepresented buyers can often miss out on opportunities.
Why do people choose North Norfolk?
Those in the market for a holiday property or second home in Norfolk many locations and stunning properties to consider.
In our experience homes for use as an additional property benefit from being in a location that gives them all the benefits found in a coastal location but also a location that can be reached relatively easily, within two or three hours, from the main residence of the owners.
For those that live in London, the coastline of Norfolk is around 120 miles away and can take under 3 hours to drive, making it far quicker and a more accessible location than getting to other prime UK holiday locations. You can also take a train from Kings Cross to Kings Lynn or from London Liverpool Street to Norwich; both take under 1 hour 50 minutes on the direct services.
Holiday homes in Norfolk
Those who live in London and own a second home in Norfolk enjoy being away from the pace of London life and sometimes visit as often as every weekend. Many have a spare car parked at either Norwich or Kings Lynn station for convenience and therefore can jump on the train in London post work at the end of the week and then drive to their home without delay and be back on the first train on the Monday morning to head back to work, making their holiday home something that is easily utilised time and time again.
Those seeking coastal property for sale in Norfolk which will be purchased solely for holiday and weekend breaks, then there will most likely be times that the house remains unused.
North Norfolk is incredibly popular throughout the year with holidaymakers, demand is not seasonal. If consideration were to be given to letting the property out occasionally for holiday lets then there are a handful of exceptional holiday letting companies in Norfolk that can advise on expected rents and demand in that area.
Property finders in Norfolk
When looking for coastal property for sale in Norfolk buyers are faced with many locations to consider and reasons why each area might work specifically for their requirements. If you're unsure of which Norfolk coastal location would suit your lifestyle and preferences a member of our local team would be delighted to assist with your search and find the perfect property.
To learn more about our property finding services please contact us.