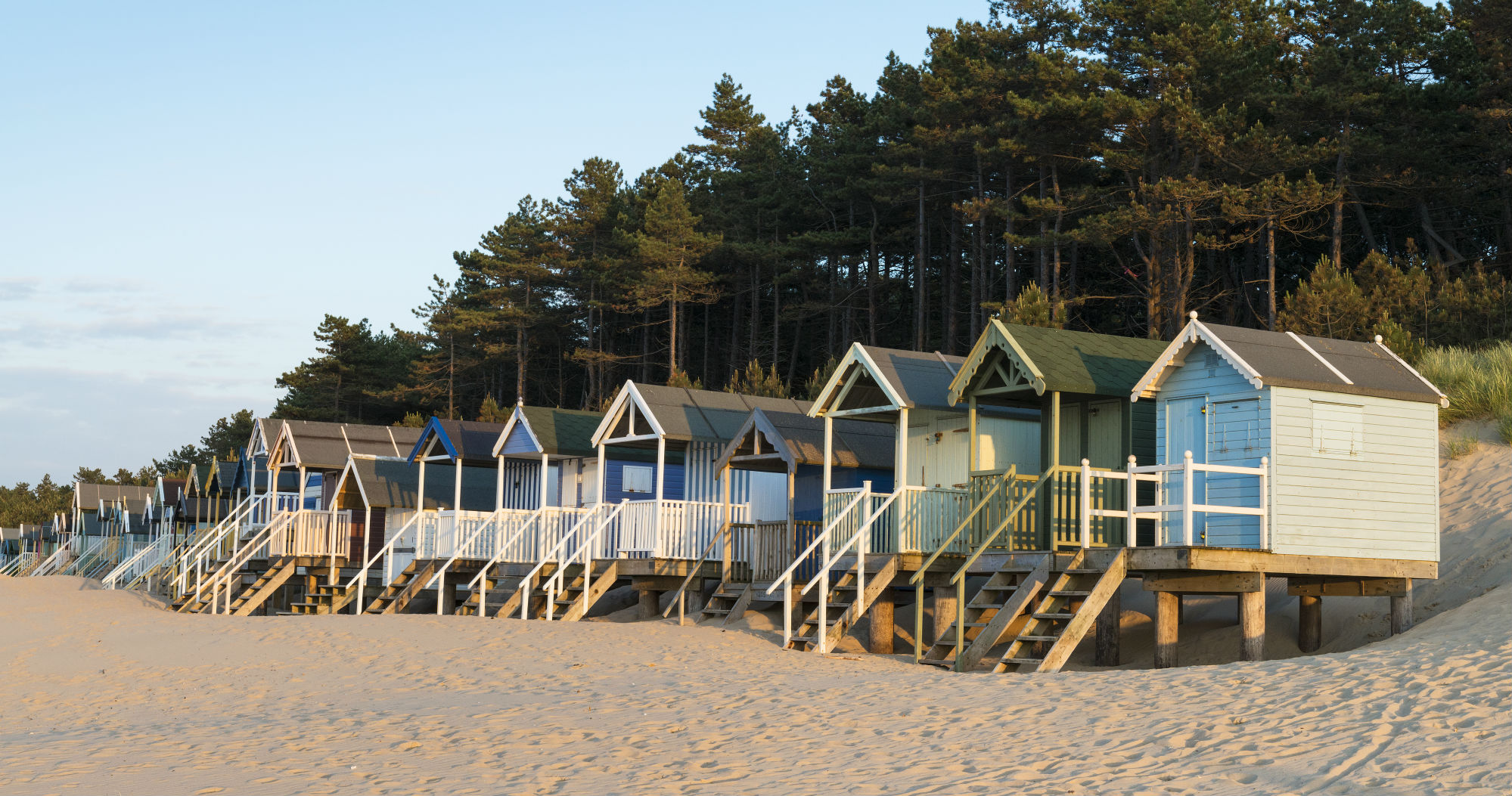 Homes with sea views in Norfolk
Published Jul 8th 2020
4 mins read
Norfolk not only benefits from the beautiful countryside but also has huge stretches of the finest coastline and sea views that the UK has to offer. In fact, the total coastline of for Norfolk is circa. 90 miles, which is the equivalent of driving from London to Kings Lynn.
The purpose of this blog is to highlight where a buyer could find homes with a sea view in Norfolk, which locations are in demand and why are they so popular.
So, for Norfolk I will pick out some of the best towns and villages – moving from west to east.
Best coastal locations in Norfolk
Heacham
Heacham is located 15 miles to the north of Kings Lynn and its beach faces directly west and across The Wash to Lincolnshire. Heacham sits a few miles south of Hunstanton, it has a wonderful beach that attracts all sorts of activities and is well known for being the home of Norfolk Lavender.
Hunstanton
Moving slightly north along the coast from Heacham is the seaside town of Hunstanton. Fondly known locally as "Sunny Hunny" by locals, Hunstanton is a traditional seaside town that is often full to the seams with visitors in the warmer months.
The town also faces west making it a sun trap for afternoons on the beach and watching the sunset. Hunstanton is well known for its beach, its cliffs and also the funfair.
Thornham
Thornham is found to the east around the coastline to Hunstanton and is set on the main coastal road. Thornham has a good amount of residential properties on the coast, both permanent residents and holiday homes. The village, as is standard in Norfolk, is home to a couple of pubs; The Lifeboat Inn and also The Orange Tree Inn & Restaurant.
Visitors often enjoy parking up and walking the path to the beach and sea and returning for a well-earned pint and lunch at one of the pubs.
Brancaster
The Brancaster Estate which is National Trust covers a large swathe of this part of Norfolk and includes Brancaster and its beach along with Brancaster Staithe and its sailing club.
The area provides a real choice of places to eat and stay, visitors also come to see the roman fort site Branodunum.
Wells-next-the-sea
Wells-next-the-sea town centre is actually about 1.5 miles from the beach and sea but in itself has a lovely charm being set around its harbour.
The beach has a large, accessible car park and is home to a lifeboat station as well as the well-known, regularly photographed beach huts on stilts. The beach backs on to the Holkham Estate and its pine woods.
Stiffkey
The coastal village of Stiffkey is a pretty, historic coastal village and home to one of the country's richest saltmarshes for wildlife.
Stiffkey is a favourite as it really does sit in the middle of the area that is known as North Norfolk. The Red Lion pub is particularly popular year-round with a roaring open fire a hearty meal in the winter, a welcoming beer garden in the warmer months and fresh local seafood on the menu.
Morston
The village of Morston is well known for several things. It is home to Morston Hall which is one of the finest dining experiences that Norfolk and possibly East Anglia has to offer, along with also being a boutique hotel. Morston Hall is owned by the well-known chef Galton Blackiston who recently often collaborates with James Martin, in case you have a keen interest in good food.
Morston Quay, Blakeney National Nature reserve, is a busy harbour and famous for Beans Seal Trips where the boat leaves to see the seals that live in the water offshore from Morston.
Blakeney
Blakeney is a very special place. The main part of the small town is located to the north of the coast road so is peaceful from road traffic. There is a real community here with a small supermarket, a gift shop and a butcher shop.
Residents and visitors alike can enjoy the walk to Blakeney Point where seals can be found at certain times of the year.
Cley
Cley is famous for its windmill and its smokehouse and the Cley Marshes, which are especially popular with bird watchers. Cley has a wonderful deli and farm shop called Picnic Fayre. I love walking from the centre to the beach and the sea – sometimes we pit stop of Wiverton Hall Café – offerings super locally sourced food.
Cromer
Cromer, to the east of Cley, is a true seaside town facing due north and is known for its pier, sticks of rock and Cromer crabs. Cromer is particularly popular with holidaymakers for days on the beach and people to live. No 1 Cromer is a fantastic restaurant with sea views owned by the chef Galton Blackiston.
Waxham
Waxham is found on the east coast of Norfolk and has a wonderful, large sandy beach; it is a small village and there are few homes available to buy. Located about 15 miles of Great Yarmouth, Waxham beach is a well-kept secret amongst locals who head here over the other more well-known and famous beaches that are frequented by visitors.
California
Not the one where the celebrities live on the west coast of America, this is California in Norfolk.
Very popular in the summer and has a glorious sandy beach; California is located very near to Great Yarmouth and is a top holiday destination.
Great Yarmouth
Great Yarmouth has a big seafront and funfair with fish and chips and arcades – a typical British seaside town. The high street has an eclectic mix of independent shops along with larger brand names, cafes and bars.
There are several private roads located on the seafront where properties rarely become available for sale – these homes often boast fine sea views.
Norfolk coastal property
If you want to find a property in Norfolk that has a sea view please do contact us to discuss your search and our services in greater detail, without obligation.
This list of locations is not exhaustive, the Norfolk Coast is littered with desirable places that boast many homes with sea views.