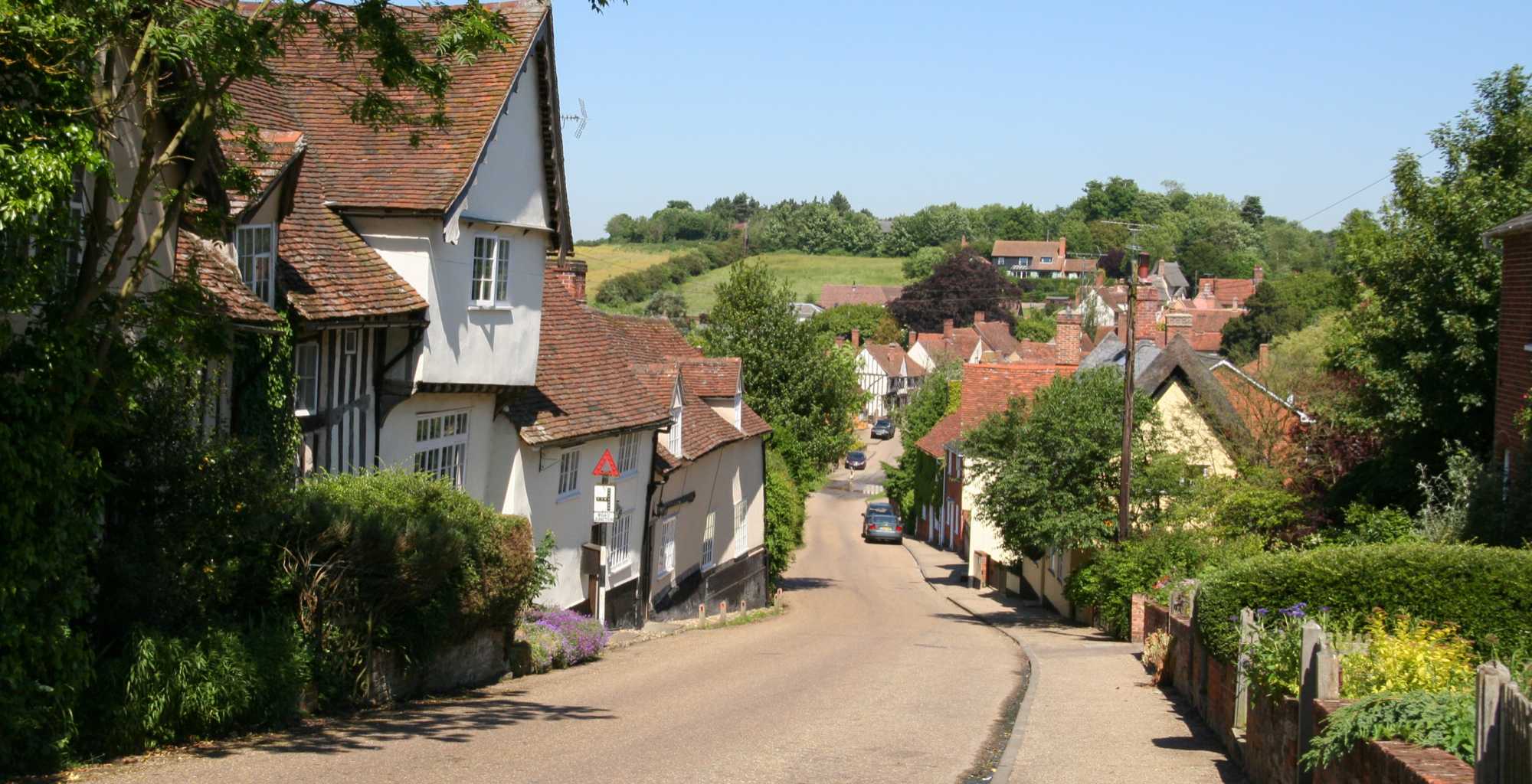 Historic towns and villages in Suffolk
Published May 20th 2022
4 mins read
Recently, the county of Suffolk has hit the headlines, in a good way, and the demand for property in historic towns and villages in Suffolk has risen significantly.
People from all walks of life are seeking a better quality of life, often moving from more urban settings – Suffolk has a lot to offer and is a natural choice with good jobs and great amenities and if needed London can be easily reached within around an hour depending on which part of Suffolk you're in.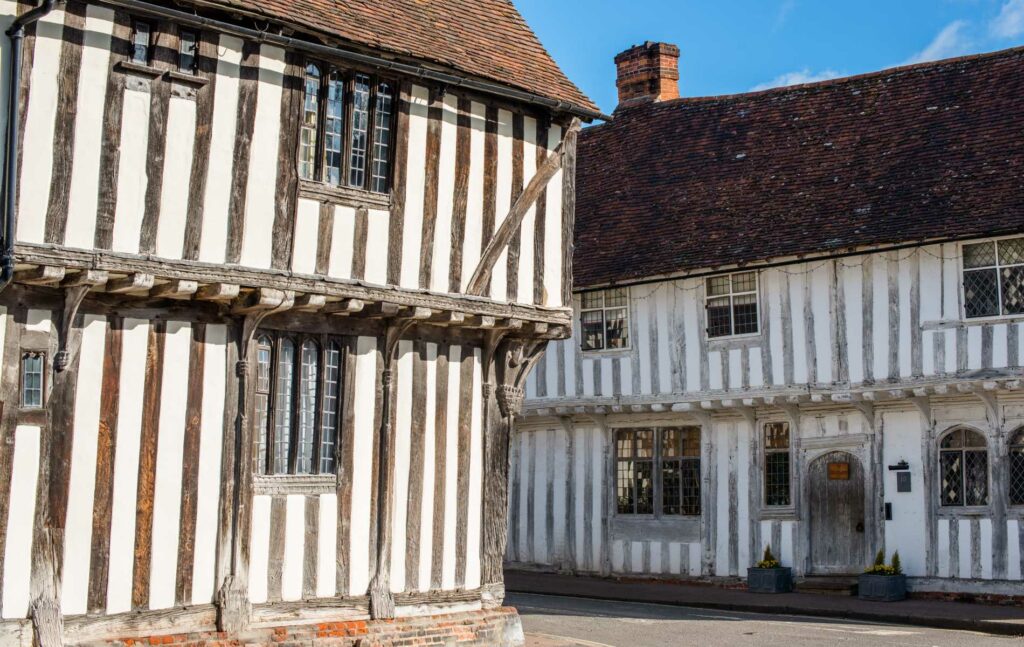 Historic towns and villages in Suffolk offer just that; thriving market towns in rural and coastal locations, picture box villages with local independent shops, great schools, rural countryside for outdoor activities, cultural and historical attractions, as well as strong communities that are safe to live in.
Recent demand for property in Suffolk has been helped by Netflix's latest drama, The Dig, about the historic excavation at Sutton Hoo, and it is a good reason why people are falling in love with the county.
So, let's take a look at the historic towns and villages in Suffolk.
The prettiest village in Suffolk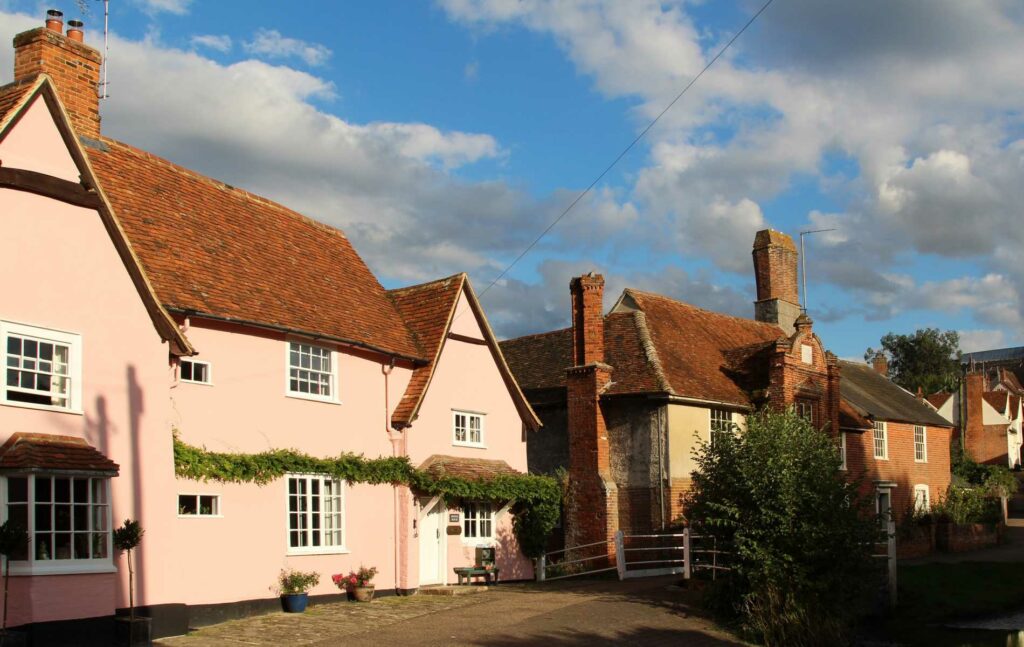 Helena Bradbury, travel writer, recently declared that Kersey 'blew her away' when she visited the village and whilst there's not much to do there, it was, for her, the prettiest village in Suffolk.
This delightful medieval village sits in the heart of the Suffolk countryside, not far from the coast, and is a true 'chocolate box' village.
Thatched cottages nestle below a hilltop church whilst an ancient ford (stream to the uninitiated) runs right through the middle of the village.
The locals call it 'the splash' and it is a tributary from River Brett that flows through nearby Hadleigh.
In the summer months, children paddle in the splash and feed the ducks, whilst the parents take a long, relaxing break in one of the traditional village public houses.
Kersey gives a nod to its heritage with Kersey Cloth, made by weavers, and for which the village is famous.
As you wander the village's many quiet lanes (when they're not closed for filming by Netflix) look up at the large first-floor windows which were designed to allow as much light in as possible.
The oldest town in Suffolk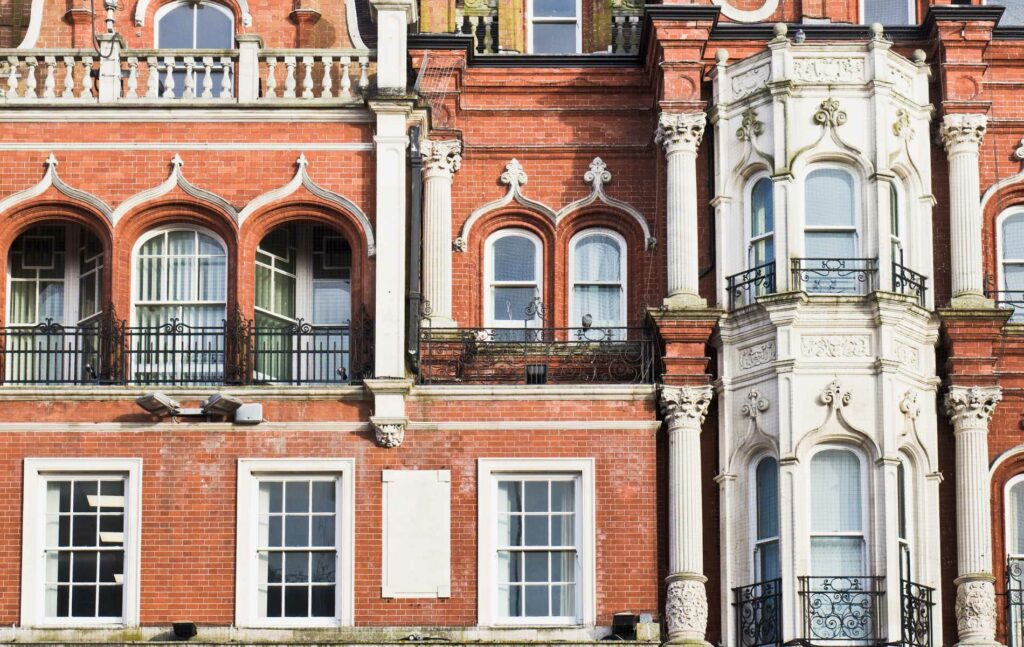 One of the larger towns in Suffolk is Ipswich but its other claim to fame is being the oldest town in the county, too.
A thriving historic port town, Ipswich's mediaeval streets, maritime history and architectural heritage stands testament to the town's growth from Anglo-Saxon days through the Middle Ages to today.
Surrounding its twelve mediaeval churches (yes, twelve!) there are plenty of open green spaces including Chantry and Holywells parks.
There is, as well, the stunning Orwell Country Park that benefits from amazing views over the Orwell estuary.
Nestled in the town – which you might think is a bit out of place – is the stunning Tudor Christchurch Park mansion that anybody visiting Ipswich must go and see.
As well as history, Ipswich has all the modern shopping outlets, independent stores, cinemas, theatres, swimming pools, thriving nightlife and a multitude of events, all wrapped up in a strong community.
The smallest village in Suffolk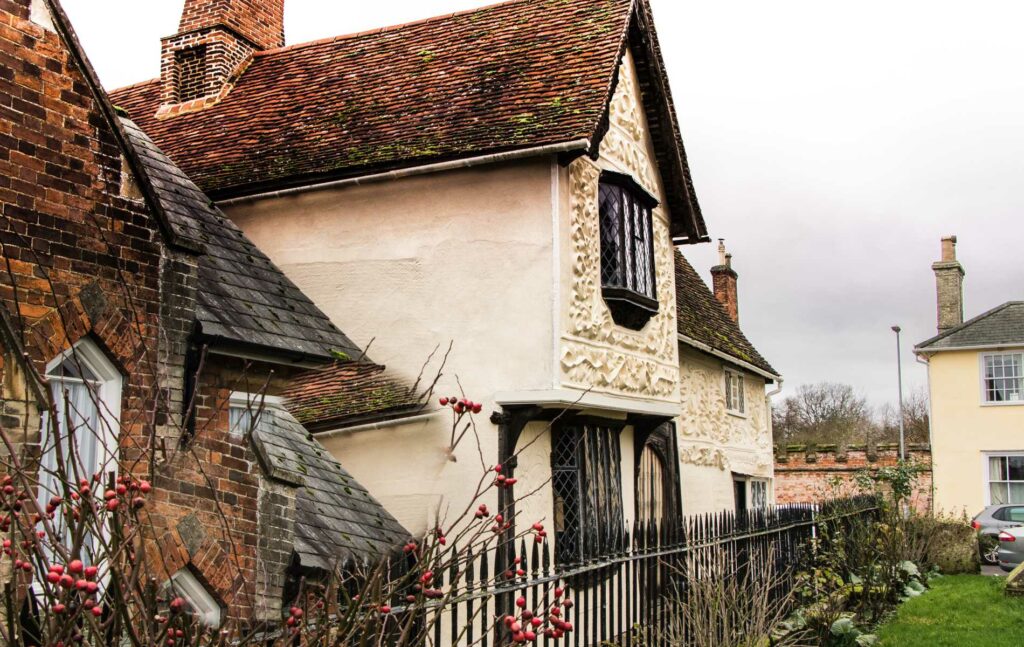 Nestling on the north bank of the River Stour is Clare.
Most would consider Clare to be a large village (it was awarded Suffolk Village of the Year 2010) but to the locals, it is West Suffolk's smallest town.
This year, it was granted the honour of hosting the Suffolk Day celebrations.
Historically, Clare is known for its Priory which dates back to 1248 and was the first Priory of the Augustinian Friars in England.
It even has its own castle; built in the 11th century by Richard FitzGilbert who was a Norman knight, Clare Castle sits 60ft high up on a motte and is one of the highest in Britain.
In 1866, the famous mediaeval Clare Reliquary Cross was discovered in the Castle's grounds when the railway was being built.
The railway station was originally located inside Clare Castle and it is believed it may have belonged to Cecily, Duchess of York, mother of Edward IV and Richard III.
This delightful 'village' also boasts the second oldest college, Clare College, and one of England's thousand best churches – St Peter and St Paul Church.
Other historic towns and villages in Suffolk
Kersey, Ipswich and Clare aren't the only picturesque, historic towns and villages in Suffolk. Here are a few more noteworthy towns and villages.
Chelsworth village
Chelsworth village sits between Stowmarket and Sudbury in the Brett valley.
It boasts a plethora of mediaeval timber-framed houses, water meadows with an old brick bridge and mature trees that date back through the centuries.
There is an abundance of idyllic walks in and around the village through the former clay pit and meadows, along old footpaths.
Dunwich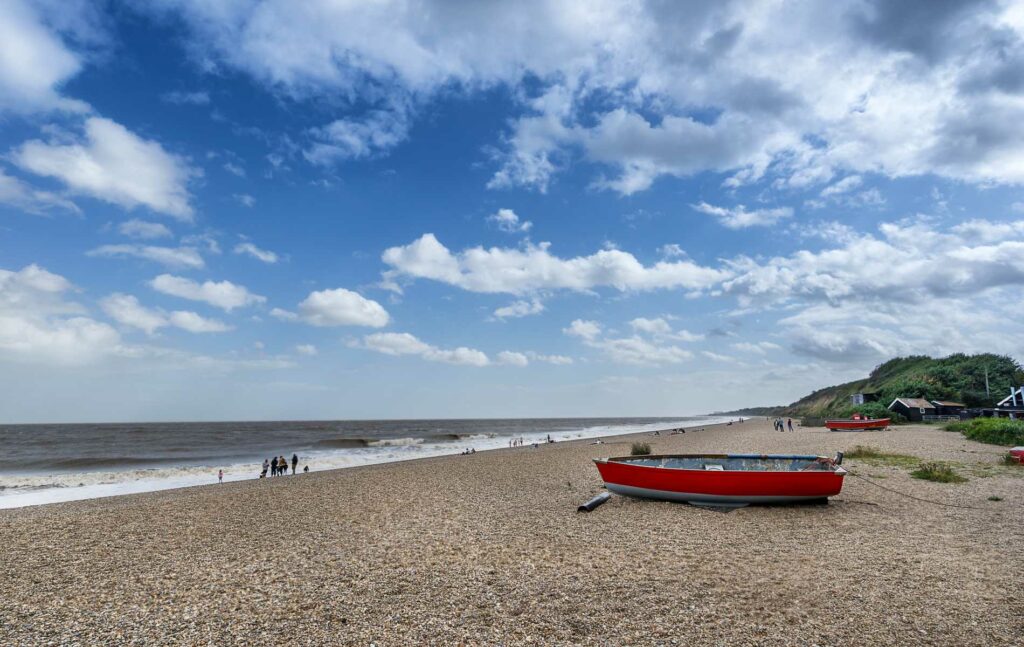 Known as the lost city of England, the tiny village of Dunwich is certainly not lost on the locals and its many visitors.
Sitting on the Suffolk coast, Dunwich was originally a busy medieval port and in 1086, 3,000 people resided there.
Sadly, storms and coastal erosion washed away most of the harbour, its land and buildings, but there are maps of the village's streets that are now underwater.
Framlingham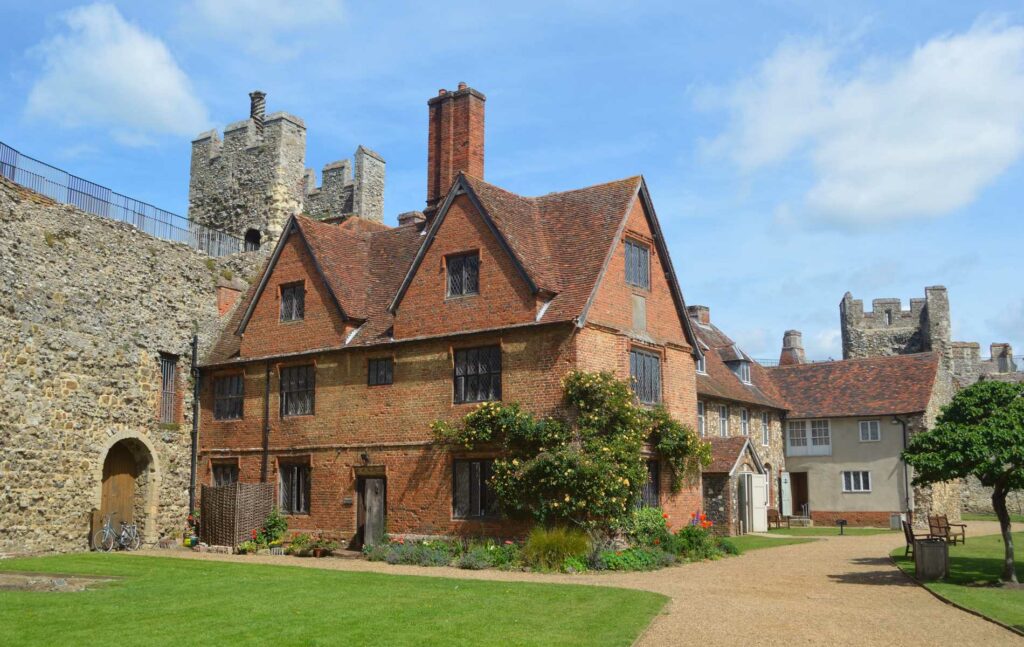 Framlingham is the perfect gem in Suffolk and a favourite of locals and visitors.
Its fabulous 12th century castle is the jewel in its crown, which was home to the many Dukes and Earls of Norfolk through the years.
Legend has it that Mary I stayed in Framlingham in 1553 on her way to London to reclaim her throne from Lady Jane Grey.
The village's other claim to fame is that it's the childhood home of Ed Sheeran, award-winning singer-songwriter. Many of his early songs were inspired by the village.
Debenham
Debenham, in mid-Suffolk, is another 'chocolate box' village that is full of charm and character.
Not far from Eye, the River Deben runs along and through Debenham, hence its name, to Woodbridge; the ford is believed to be the largest in the UK.
Named in the Doomsday Book of 1086, in 1970 the village was declared a conservation area. Delightful shops and cafés, pubs and timber-framed buildings line the quaint historic streets.
Historic towns and villages in Suffolk
Garrington's logical approach to home search and reputation acting as trusted advisors to private clients, together with expertise and market intelligence, ensures we succeed in finding even the most obscure properties, throughout the UK.
To find out how we can help you acquire a home in Suffolk, contact us, without obligation.