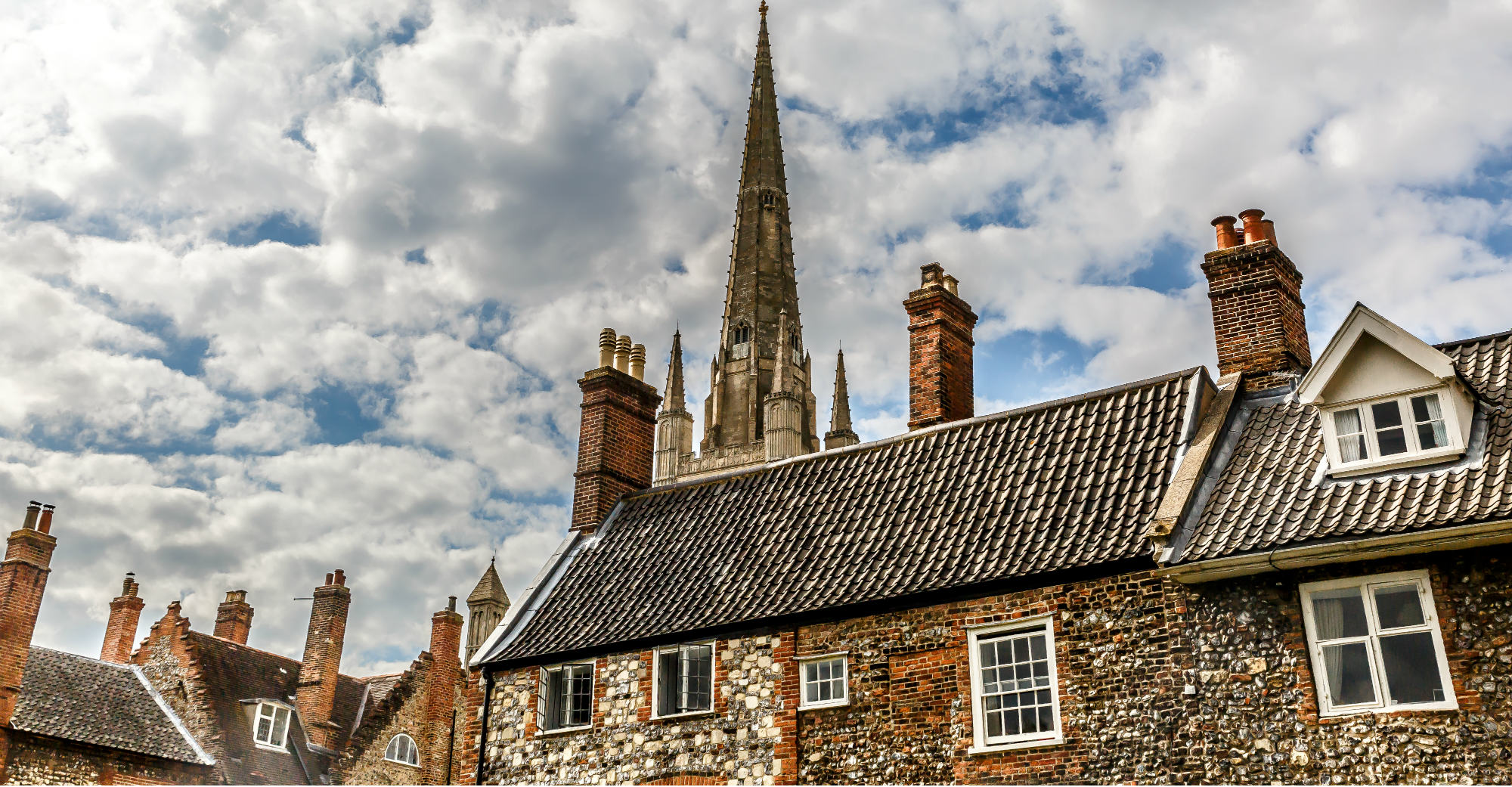 Best towns in Norfolk
Published Jun 28th 2019
5 mins read
Norfolk is filled with pretty villages and hamlets however for many there is a greater appeal to living in a town where amenities are readily available and transport connections are often better. With this in mind we consider the best towns in Norfolk and why you might want to live there.
Norfolk is a large county located within East Anglia, it covers over 2,000 square miles of land and the population was last recorded to be around 850,000 of which approximately 150,000 people live in Norwich. Norfolk is bordered by Suffolk and Cambridgeshire to the south and Lincolnshire to the west.
The county is made up of several sub-regions and these include Norwich, The Norfolk Broads, North Norfolk, South Norfolk and West Norfolk. Within these sub-regions there are several delightful market towns that are very popular with buyers of permanent homes and also attract those seeking holiday or second homes.
Within this blog we consider a handful of market towns across Norfolk to understand why they are such popular places to live.
Why move to Norfolk?
Many choose to move to a Norfolk town attracted by the prospect of having an array of amenities nearby, good transport connections and immediate access to the beautiful Norfolk countryside or coastline.
For those who are used to a city life and are seeking more space a rural market town offers a good balance.
Towns in North Norfolk
If you're considering a move to a Norfolk market town it might be that you are unsure of which market town will appeal most and best suit your lifestyle, we have considered five towns across Norfolk and what makes them so appealing.
Property in Holt
Holt is located in the north of Norfolk, located only a few miles from the Norfolk coast and around 20 miles north of Norwich.
The pretty, Georgian built town centre offers a variety of places to shop and eat; from antique shops, to art galleries and independent boutique stores that have been in operation for hundreds of years.
Families are attracted to the area for many reasons, in particular the access to excellent schooling options including renowned Gresham's pre-preparatory, preparatory and senior schools which are located in Holt.
Holt has retained much of its period charm, particularly in the centre of the town; buyers can find stunning Georgian town houses for sale. For those who prefer modern homes there are several developments that have been built in recent years that offer easy access into the town centre.
On the outskirts of town there are large detached properties for sale both period and modern homes along with barn conversions for those seeking homes with amenities nearby but a little more removed from the busyness of the town.
Homes in Fakenham
Fakenham is found in north west Norfolk, it is located around 25 miles north west of Norwich and about 10 miles south of the North Norfolk Coast.
The town which is the largest in North Norfolk has a very well-known market which dates back to 1250. Fakenham sits alongside the River Wensum and its skyline is dominated by the towns 14th century church tower.
Fakenham has a bustling high street with popular trading brands as well as independent shops. The town is also particularly famous for its racecourse which has meets throughout the year.
The historic part of the town surrounds the marketplace and the church where the houses are typically smaller Victorian properties. From this to the outskirts are a number of developments which offers home buyers more modern style property.
The villages that surround the town, particularly to the north of Fakenham, are very popular places to live due to their proximity to both Fakenham and its amenities along with offering easy access to the coast.
Watton property
Watton is found in west Norfolk, the town was referenced in the Domesday Book specifically for its church, its manor house and its Anglo-Saxon settlement. Watton has a pretty high street with a clock tower which dates to 1679 which is now used as a tourist centre for the wider area.
The high street offers an array of amenities including larger chain stores and independent shops and the town hosts a market every Wednesday morning.
Families are attracted to Watton and the surrounding villages as the town provides reasonable access into Norwich for the wider choice of schools found there and also easy access to the south and A11 main road to Cambridge.
Property for sale in Watton is a mix of styles and types from terraced properties to larger detached houses. Larger properties with land are more likely to be found in the nearby surrounding villages and are especially popular because they are located in the countryside but within touching distance of Watton and other towns to the west of the county.
Property for sale in Wymondham
Wymondham is located around 10 miles southwest of Norwich and sits alongside the A11 main road which links Norwich to Cambridge.
The historic town centre and high street has offers a selection of well-known brands and independent shops.
Wymondham has its own Abbey which was founded in 1107 and is a tourist attraction for the town. The railway station which is popular with commuters is found on the outskirts of Wymondham and is on the Norwich to Cambridge line.
Wymondham is very popular as a location as it sits within close proximity to Norwich. Wymondham College is a highly regarded coeducational state boarding school that always has a waiting list and a set catchment area which makes the town and surrounding villages very popular with families seeking property to buy in Norfolk.
Property for sale in Wymondham, especially in the centre of town, is largely Georgian built, the suburbs of the town are filled with property built post-war as the town saw its popularity surge as a commuter hotspot.
Similarly to other Norfolk towns for large detached properties with land buyers can consider the nearby villages. For families seeking a property to buy with land the good news is that a number of these villages still fall in the catchment of Wymondham College.
Diss homes for sale
Diss is found on the Norfolk and Suffolk border and like many of the towns in Norfolk has a historic centre and dates back to c. 1100, its period charm has been retained; there are many historic buildings in Diss.
Diss has a main high street which offers a selection of larger brand shops along with independents and The Corn Exchange draws crowds for regular cultural offerings.
The town also has a railway station which is on the mainline from Norwich to London and several people who live in or close to Diss commute daily, to both.
The centre of Diss is where buyers will find period town houses and cottages, although there is often much competition to secure these properties. For larger properties buyers can look at those located near the river around Fair Green.
Property Finder in Norfolk
There are many highly desirable, sought after places to live in Norfolk, when moving to the county it can be difficult to decide the best location to find the perfect property for your lifestyle and requirements. Our team of local Norfolk property finders are equipped with area knowledge to assist you in finding the ideal location and home. For a no obligation discussion regarding your requirements and our services please contact us.