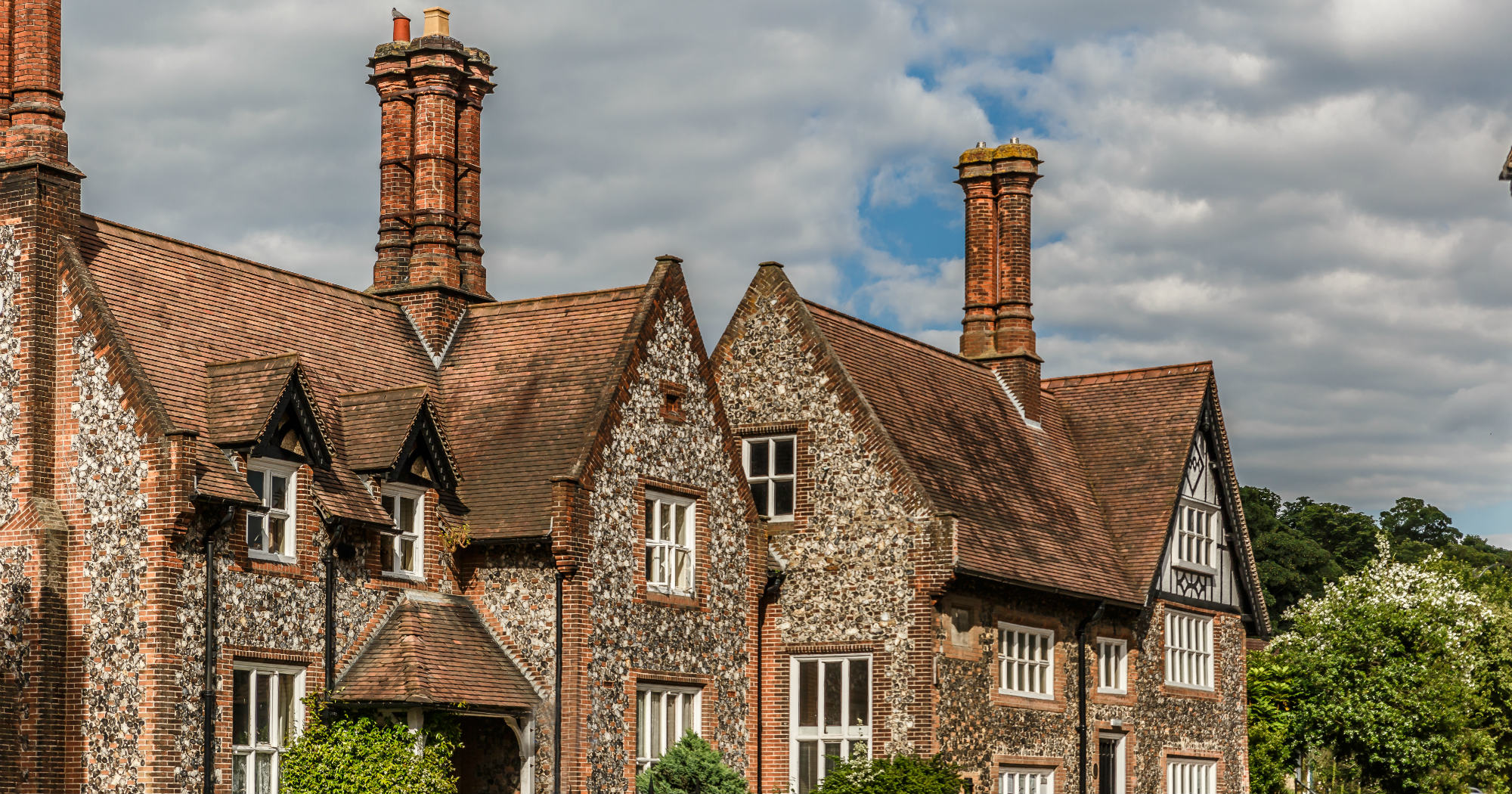 North Norfolk Property For Sale
Published Jun 13th 2019
4 mins read
North Norfolk is incredibly well known for its beautiful coastline, massive skies and tranquil countryside – all perfect ingredients for a place to live or indeed buy a holiday home and explains partly why there is healthy demand for North Norfolk property for sale.
In addition, the area has a feeling of wide open spaces with huge sandy beaches, abundant wildlife and a peaceful yet very cultured environment for people to live and for nature to thrive.
North Norfolk offers villages with easy access to the beach and sea and others which are slightly inland providing a beautiful countryside setting.
Property types in North Norfolk
House styles in Norfolk provide much choice but two that are very common are barn conversions and flint cottages and houses.
Given the number of farms there are many barn conversions, it has been seen that over many recent years the old farm barns have become redundant from their actual original use on the farm so have been converted to provide new homes and provide very modern, sometimes open plan living with wonderful finishes and as set on a farm most will have far reaching views.
Norfolk is particularly well known for its flint cottages and houses. Flint historically was one of the most common building materials and was and still is robust against the weather and cottages and houses can be found in most Norfolk villages.
Property for sale in North Norfolk villages
There are many beautiful villages in North Norfolk, three sought after villages would be Blakeney, Brancaster or Brancaster Staithe and Burnham Market and here are the reasons why.
Blakeney is a small village on the North Norfolk coast, from the village you can walk to the popular Blakeney Point. The harbour over time has silted up and allows only smaller boats in at high tide. A sought after place to live, Blakeney is home to pubs, restaurants and shops.
Brancaster and Brancaster Staithe are well known both for its beach and the harbour at Brancaster Staithe – this provides for boating including fishing, kayaks and sailing, and between them both have an array of fine pubs and restaurants.
Burnham Market is slightly inland from Brancaster Staithe, this highly desirable location is sometimes referred to as Chelsea on Sea. The village is centred around its green and is home to fine dining, pubs and lots of shopping.
Houses for sale in North Norfolk with sea views
There is a main road that links Hunstanton to Cromer and from this the North Norfolk villages splinter off – to the north where they will be typically sea facing and to the south where they will be inland countryside villages.
A number of prestigious houses will be advertised for sale that have 'sea views' but they are more often than not still be some distance from the sea – this is because there is a huge marsh land between the villages with paths and creeks that link to the beach and the sea.
As before, Blakeney, Brancaster and Brancaster Staithe all have highly desirable houses for sale, but stock is limited to the open market as quite often sales take place discreetly; a property finder can often ensure you are aware of all opportunities including those not advertised for sale openly.
North Norfolk property sales volumes
Based on recent research, focusing on a selected target area in North Norfolk there have been a total of 16 houses sales above £1 million in the last 12 months (June 2018 – June 2019) The highest recorded price achieved in that timeline was £2.95 million and this was in July 2018.
At the time of writing there are 37 properties openly available in the £1 million + bracket and this was taken within a 20-mile radius of Burnham Market so a number of these will be found further inland as well as those found closer to the sea. It should also be noted that at the time of writing there are 17 properties in the £1million bracket that are SSTC (Sold Subject To Contract).
The open market typically only reflects part of the story, particularly at the top end of the market, and there will always be sales of houses that never reach the open market and are sold off market. Appointing a Norfolk property finder can help open these doors.
North Norfolk property price trends
The graph below shows that of prime properties, those in the top 5% in terms of sale value, in North Norfolk against the wider East of England average sold prices. This clearly demonstrates that the North Norfolk markets have performed better over the last 12 months against property prices in the rest of the East of England region.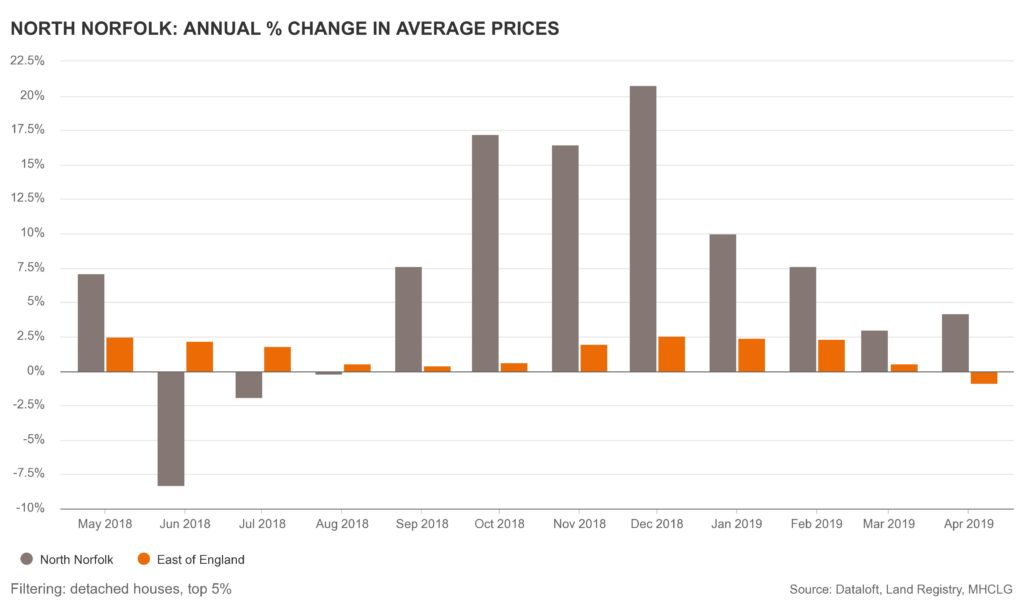 The graph below shows that in the prime property markets, those in the top 5% of transactions, that average sale prices have been consistently higher in North Norfolk against the wider East of England market.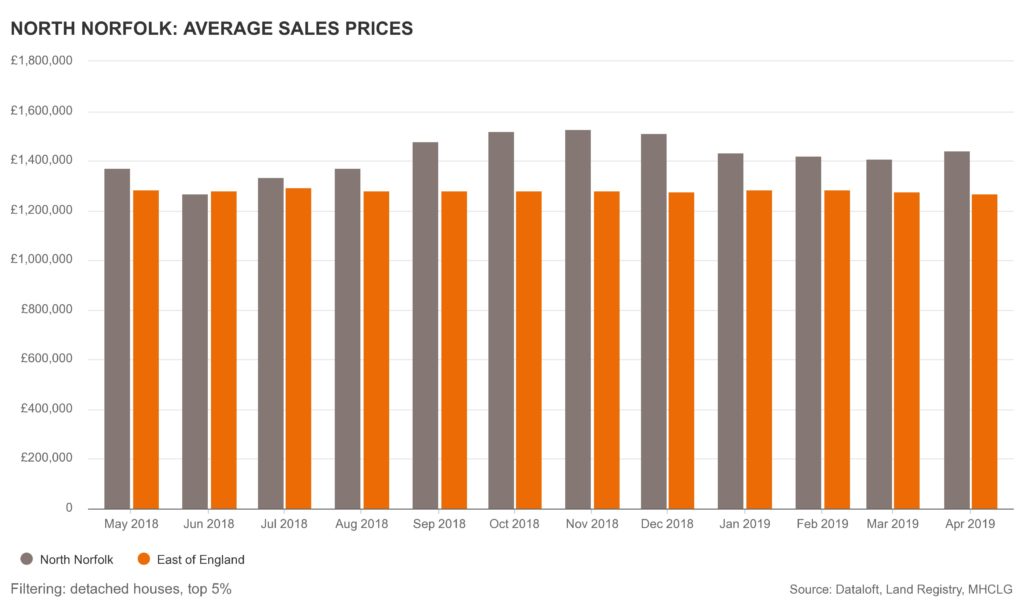 Whilst prices are higher in North Norfolk when compared to the rest of the region, historical trends show that not only do prices remain higher than the rest of the region but also have outperformed in terms of price growth.
North Norfolk property finders
An incredibly important part of our role is to challenge our clients at every step of the journey providing rigorous, objective advice and guidance throughout the purchase so that the right decision is ultimately made.
Whether you are seeking your primary residence, a holiday home or a buy-to-let, our professional North Norfolk property finders would be very pleased to assist and share their knowledge with you to help find your perfect property whatever the motivation is behind your purchase.
Please contact us, without obligation, to learn more about our property finding services.